TraVek, Inc. Wins Gold in NARI CotY Awards
TraVek is a Gold Award Winner for the Prestigious Greater Phoenix NARI Contractor of the Year Awards for the category Interior Remodel Under $100,000. They took second place, (Silver Award) for the category Interior Remodel Between $100,000 and $250,000. The awards were presented at a dinner hosted at Contract Furnishings Mart in Chandler on Tuesday, January 24, 2023.
Scottsdale, AZ - January 26, 2023
FOR IMMEDIATE RELEASE Thursday, January 26, 2023

CONTACT: Susan Raisanen, Marketing 480-367-1171
susan@travek.com
TraVek Remodeling in Scottsdale Receives Gold Award at Greater Phoenix NARI Annual CotY Awards

Scottsdale, Arizona (January 26, 2023) – TraVek Remodeling is pleased to announce that they have been selected as the winner of the Gold for the category of Interior Remodel under $100,000 in Scottsdale. They were also chosen as a Silver Award winner for the category of Interior remodeling between $100,000 and $250,000. They were chosen for two of the fourteen awards at the awards ceremony. Greater Phoenix NARI has recognized local companies that have demonstrated excellence and skill in residential remodeling.

Susan Raisanen, Director of Sales and Marketing commented, "There were many nice projects there and some very talented work that was done, and so to be chosen as a winner for this category is pretty exciting. We thank Greater Phoenix Nari, its members, our associates, and the National headquarters for providing the opportunity for us as a local business to be recognized for our hard work and dedication to the professionalism of the industry, and for the encouragement as we continue to work for this community."
The 2023 Awardees were revealed at a dinner on Tuesday, January 24 at Contract Furnishings Mart in Chandler.

Local contractors who are part of the local NARI chapter have an opportunity to submit their finest projects to be judged in a variety of categories. Submissions are sent to other chapters across the nation for unbiased judging. "Those people do not know who they are judging," said Raisanen. "They have a list of specific qualifications and attributes they must judge, and then once all judges have entered their marks into a programmed system, the projects are tallied and winners are listed."

The projects that won were both extensive home remodels. The Gold Award went to the project that was for homeowners who wanted to update their kitchen, as well as make it a part of the living area. It had originally been separated by a wall and was quite shut off and dark. TraVek filled in the sunken living room floor, removed the dividing wall, removed another portion of a wall, and opened it up to a lot of natural light. All of the cabinetry was replaced with updated cabinetry with great function and a lot more storage options. The island was oversized and became a part of the living area.

The Silver Award was for another extensive and very beautiful project. This was for another very dark and outdated home with a lot of walls dividing the main living area into several sections. By removing them, filling in a sunken floor and putting new flooring throughout, and then completely relocating the kitchen, there was a whole new look and feel to the home.
The process for award submissions is quite involved and begins already before a project begins. It is important to get the story of why TraVek was called initially to do a particular remodel, any challenges that were overcome, examples of superior craftsmanship, and how the end result was one of outstanding quality.
TraVek, Inc. 15575 N. 83rd Way, Suite A4 Scottsdale, Arizona 85260 (480) 367-1171 https://www.travek.com/ TraVek is a design-build residential remodeling General Contractor offering Kitchen, Bathroom, Whole Home Remodels, as well as Foam, Recoats, Tile, and Shingle Roofing. TraVek services clients in Scottsdale and all over the metro Phoenix and surrounding areas, and seeks to assist the community to create space for families to live and grow together. They have certified design experts for residential remodeling, as well as for spaces needing to be reconfigured to be ADA-Compliant for people with physical limitations.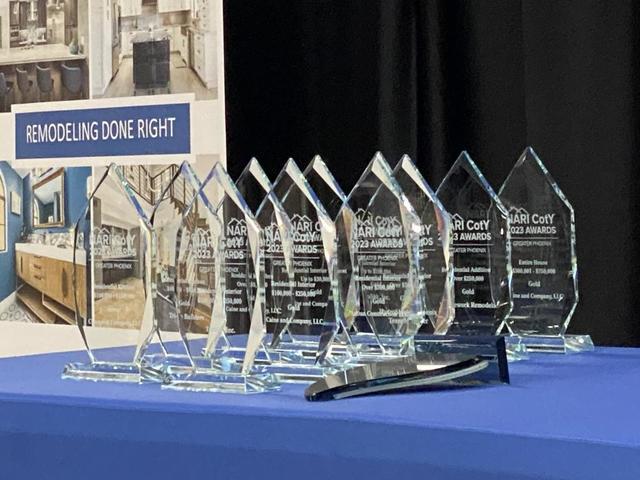 our service area
We serve the following areas
Carefree
Cave Creek
Chandler
Fort McDowell
Fountain Hills
Gilbert
Glendale
Mesa
Paradise Valley
Peoria
Phoenix
Queen Creek
Rio Verde
Scottsdale
Tempe
Our Locations:

TraVek Inc
7661 E Gray Rd
Scottsdale, AZ 85260
1-480-739-6200