Kitchen Remodeling in Scottsdale, AZ
Upgrade your home with new kitchen cabinets, countertops, and more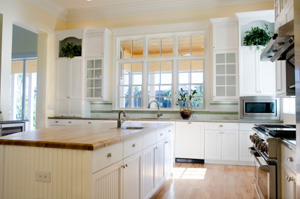 Beauty & function. When remodeling a kitchen, it's important to include features that will give you the look you want while keeping functionality in mind.
TraVek Inc provides complete kitchen remodeling services, from the initial design to the finishing touches.
The kitchen is the heart of your home. By remodeling your kitchen, you will add value to your home and create a welcoming and functional space. Our design experts will make sure your kitchen includes all the features you want, and our experienced installers will handle all the details.
Contact us today to begin designing your dream kitchen! We provide no-obligation kitchen design consultations in Scottsdale, Phoenix, Mesa and nearby. Call us or click below to request your in-home consultation.
What to expect from our kitchen remodeling process
Your beautiful and functional new kitchen starts with our in-home design consultation. During your visit, we will discuss what you like and don't like about your kitchen and what you want to change. We will help you decide which features are most important to you and explore all the different options for cabinets, countertops, storage solutions, and more. Based on that conversation, we will help you create a realistic budget that will get you what you want and need.
We understand that remodeling your kitchen can be disruptive. That's why our professional contractors try to minimize the impact on your home and family as much as possible. We're committed to completing your project on time and we always clean up thoroughly when we're done. The only thing you'll have to do is plan your first meal in your new kitchen!
Transform your kitchen with the right upgrades
Remodeling your kitchen doesn't have to be overwhelming. We can turn your dated kitchen into a modern, functional space with a few upgrades. Our remodeling experts will work with you to discuss your Wish List and design a plan that maximizes your space while creating a kitchen that you'll love spending time in.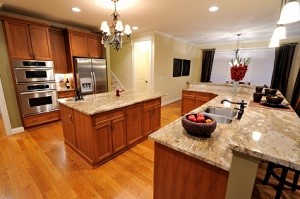 Custom solutions. We will help you find the right cabinets, counters, and finishing details for your design and needs.
Cabinets
Your kitchen cabinets are the first feature of your kitchen that guests will notice. There are several different options for upgrading your cabinets. We work only with quality, brand-name manufacturers to make sure you get the very best in your kitchen.
Quality boxes with real wood drawers, and attractive, interlocked dovetail joints on all four corners of the box. The bottom is solid wood and the surfaces are easy to clean. The box itself should have four sides, which include a side behind the drawer header.
Drawer glides that roll out easily and stops automatically so they don't fall out. Full-extension glides allow you to get something from the very back of the drawer. Self-closing features that close with just a nudge so you don't have noisy, slamming drawers. Undermount glides that stay cleaner and allows the drawer box to be wider.
Countertops
Your countertop is another major focal point of your kitchen. Replacing your outdated countertop can enhance the overall beauty of the space. There are several surface options available for every style and budget. We can help you find the perfect countertop for your kitchen and provide professional installation.
Storage and organization
Inadequate kitchen storage and poor organization are two common complaints of homeowners. Let us solve that for you by maximizing the cabinet layout within the space you already have. We'll help you incorporate storage features such as pullout trays and organizers, to make sure you are getting the best function out of your beautiful new kitchen.
TraVek Inc can give your kitchen a complete facelift
As the local full-service luxury home remodeler, TraVek Inc is the expert you need for all your kitchen remodeling services. We will be with you every step of the way from design to completion, ensuring that you get the kitchen of your dreams.
If you're ready to upgrade your kitchen, call us today or contact us online for an In-Home Consultation today. We offer all our remodeling services in Mesa, Phoenix, Scottsdale, Gilbert, Chandler, Paradise Valley, Glendale, Carefree, Cave Creek, Tempe, and nearby areas in Arizona.
our service area
We serve the following areas
Carefree
Cave Creek
Chandler
Fort McDowell
Fountain Hills
Gilbert
Glendale
Mesa
Paradise Valley
Peoria
Phoenix
Queen Creek
Rio Verde
Scottsdale
Tempe
Our Locations:

TraVek Inc
7661 E Gray Rd
Scottsdale, AZ 85260
1-480-739-6200