Home Remodeling Photo Album: Scottsdale, AZ Bathroom Remodel
This is a beautiful North Scottsdale Bathroom remodel. The homeowners had lived in their home for 31 years with no changes or updates to the bathrooms. Now it was time to remove everything and replace it with new. As you can see, this Scottsdale bathroom went from drab to fab. The layout was changed a little by removing the corner Roman tub and putting in a center soaking tub. By doing so, they were able to get more room for her countertop, sink and makeup counter. They were also able to add a lovely linen closet that provided a lot more storage. The shower used to be a fiberglass insert, and TraVek Remodeling was able to remove that and put in a beautiful tile shower with the proper Schluter waterproofing beneath, added niches and a bench. Look how lovely. Do you have any comments on the nicest view? Let us know. Email susan@travek.com.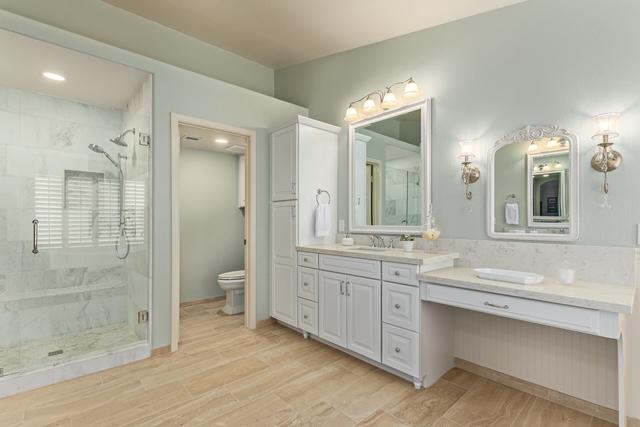 Free-Standing Tub & Adding More Space
Originally a lot of this wall was taken up by a corner Roman tub. By removing that and putting a free-standing tub, these Scottsdale homeowners were able to add a lot more storage space with a linen closet. The makeup counter was also able to be extended, and more cabinet drawers put in the vanity drawer.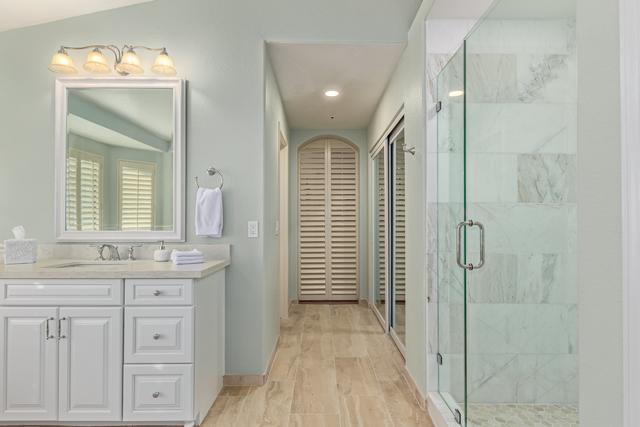 Custom Louvered Doors
The entrance from the bedroom used to be only a doorway with no door. By adding the custom louvered doors, it gives a feeling of entering a spa and allows these Scottsdale homeowners to go into their little spa sanctuary for full relaxation.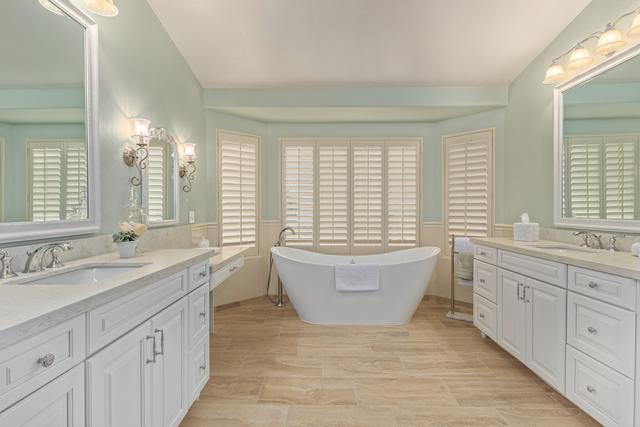 Scottsdale Bathroom Remodel
The tub used to be a Roman tub in the left corner. Attached to it was a countertop that spanned the width of the room, and took up a lot of space that essentially was wasted space. This free-standing soaker tub sits so nicely in front of the bay window that you would think it was originally designed to be this way.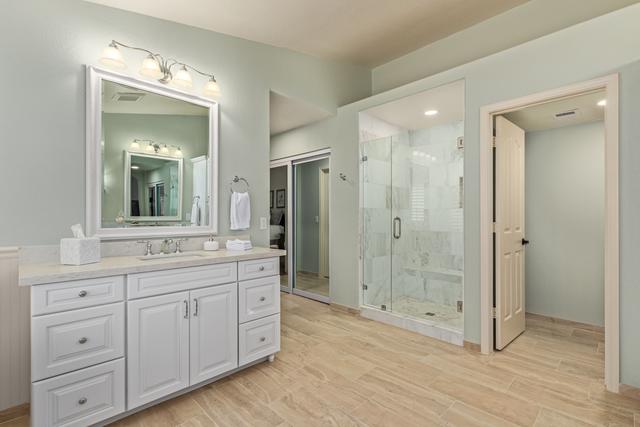 New Shower Update
No detail was left untouched. The shower used to be a fiberglass insert, and now that space was tiled from floor to ceiling. A nice bench was put in there, as well as niches for shampoo and soaps. Originally there was just a handheld shower in there, but now there is a large shower head as well as a hand held. This bathroom is set up nicely in that this couple has completely separate vanities and sinks. You see one here, and there is another one directly across from it.
our service area
We serve the following areas
Carefree
Cave Creek
Chandler
Fort McDowell
Fountain Hills
Gilbert
Glendale
Mesa
Paradise Valley
Peoria
Phoenix
Queen Creek
Rio Verde
Scottsdale
Tempe
Our Locations:

TraVek Inc
7661 E Gray Rd
Scottsdale, AZ 85260
1-480-739-6200