Home Remodeling Photo Album: Laveen Kitchen and Staircase Remodel
These homeowners called TraVek initially because they wanted to update their kitchen. They had lived there for many years, and had been considering a remodel for approximately four years. The cabinetry was very dark and dated. They were looking for more of a contemporary look. They wanted to remove the L-shaped peninsula in the kitchen and add a center island. They also wanted to remove a couple of walls and open up the staircase and upstairs landing. As you can see, it's beautiful, airy and light.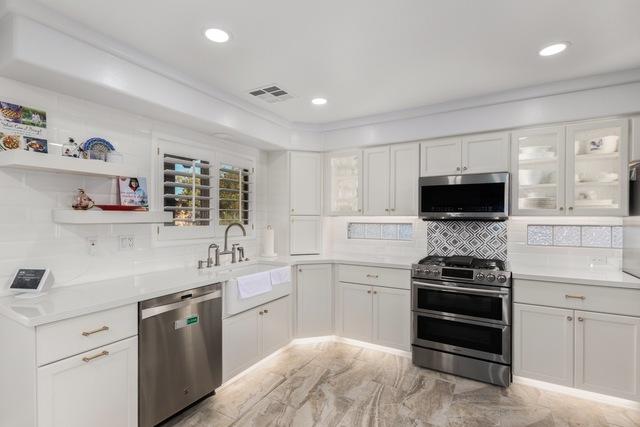 Kitchen Remodel in Laveen
The cabinetry here is Starmark's Maple Stratford Marshmallow Cream. There are beautiful straight lines and a very clean look.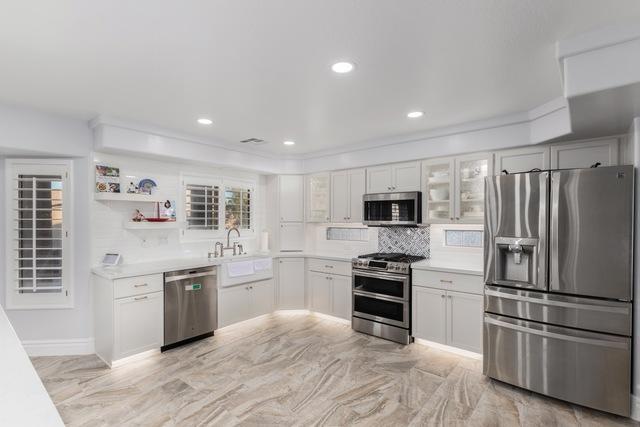 Starkmark Cabinetry
The cabinetry here is Starmark's Maple Stratford Marshmallow Cream. There are beautiful straight lines and a very clean look. The splash of blue in the backsplash gives a little extra pizzazz to the room.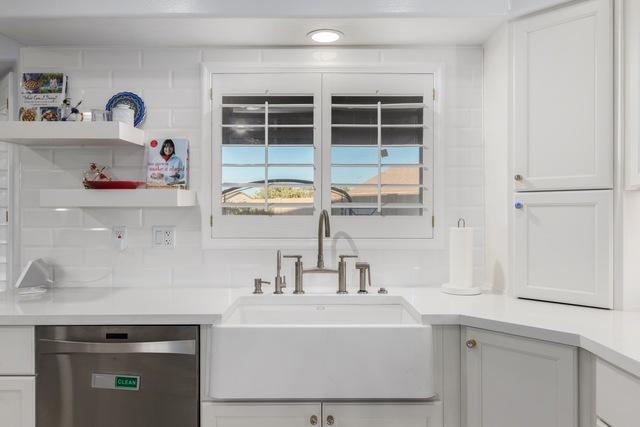 Floating shelves
Floating shelves can make a lovely addition anywhere, even above a kitchen counter.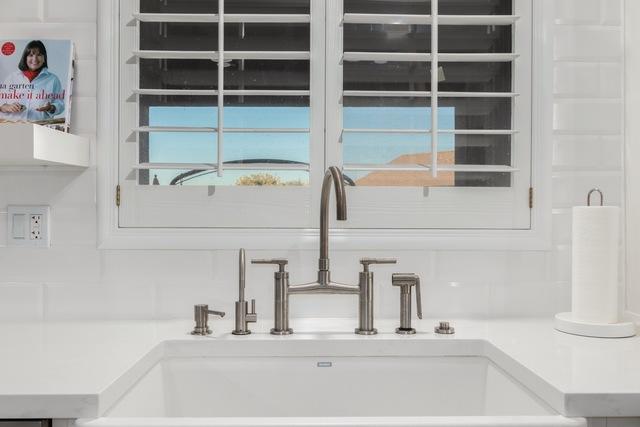 Apron Sink
The apron sink fits perfectly. Sink and fixtures are Supplied by Studio 41.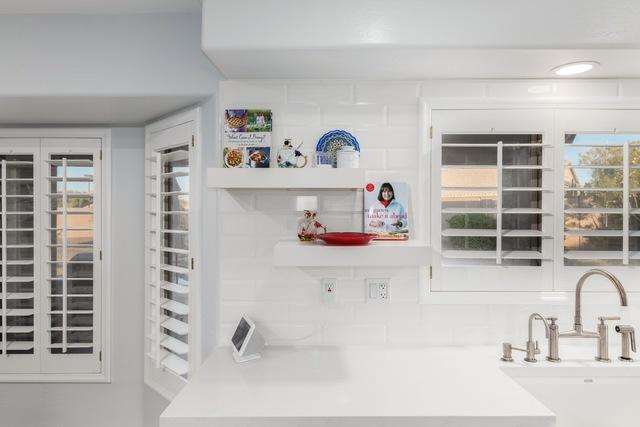 Utility Kitchen Sink
This utility sink looks so beautiful in white along with the white subway tiles on the wall and the white countertops. Sink and fixtures supplied by Studio 41.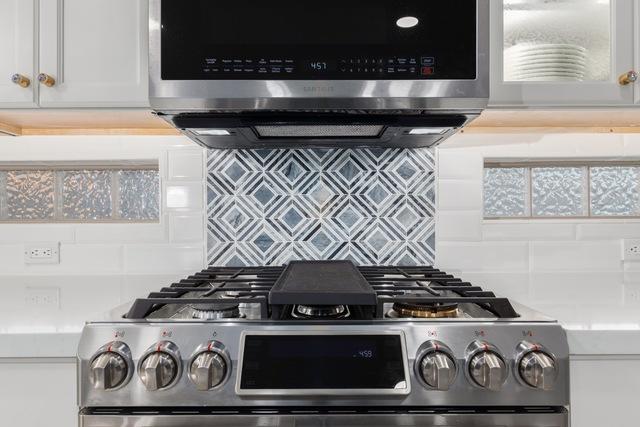 Nice splash of color
The backsplash was a very pretty accent to an otherwise white wall.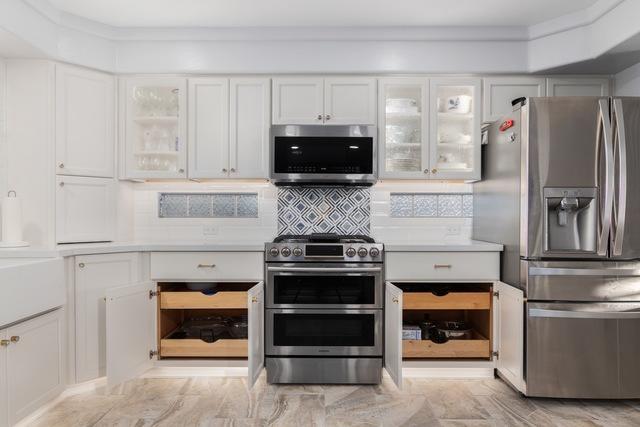 Storage - A Dream for Any Kitchen!
Look at the lovely storage. These pots and pans drawers make it so easy to get at what is often so cumbersome.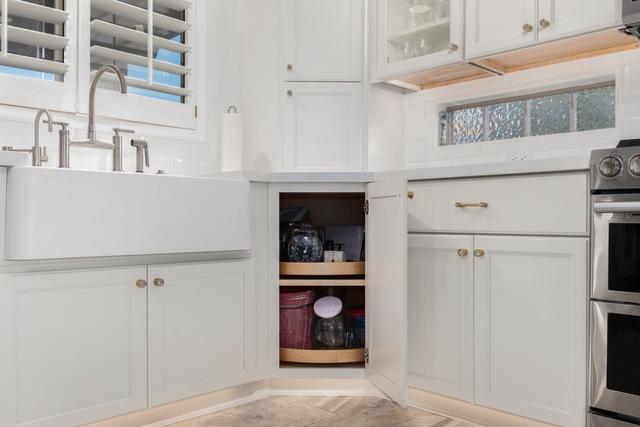 Lazy Susan
Nice use of space in the corner cabinet with a Lazy Susan. Starmark Stratford Marshmallow Cream cabinets.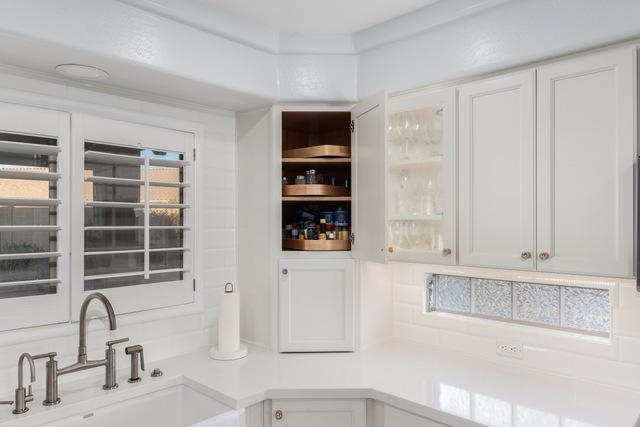 Starmark Cabinets
Starmark Cabinetry has nice options for storage and making it easy to reach anything in them.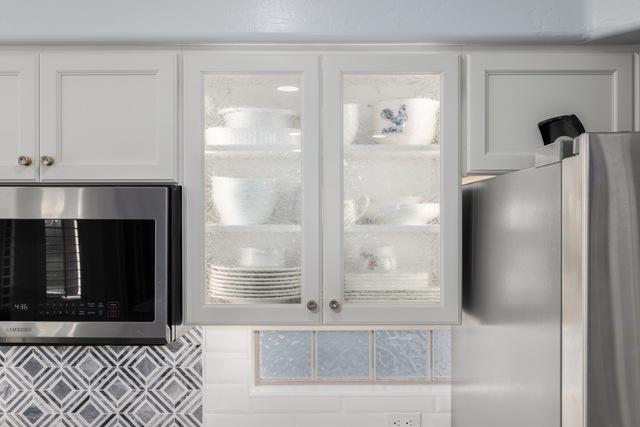 Lighted Display Cabinets
This is a nice touch for some display cabinets right within your kitchen cabinetry. It is one of those little touches that adds a lot more Wow!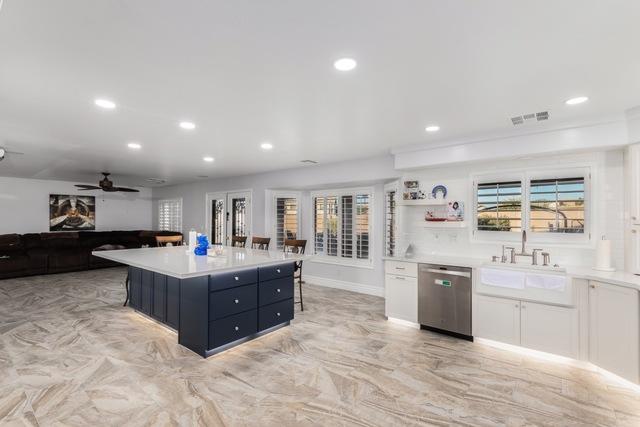 Wide open kitchen
The homeowners got their wish to open up the space. With consistent flooring throughout, the space ties together beautifully and gives an open, airy feeling.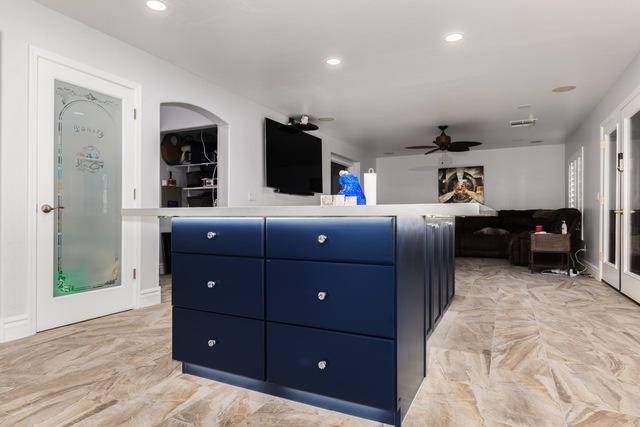 Blue Cabinetry on Island
The Blueberry color for this Starmark Maple Stratford island is a beautiful centerpiece for the kitchen. Originally there was an L-shaped counter, and by removing that and removing some walls, they were able to put in a nice, roomy island.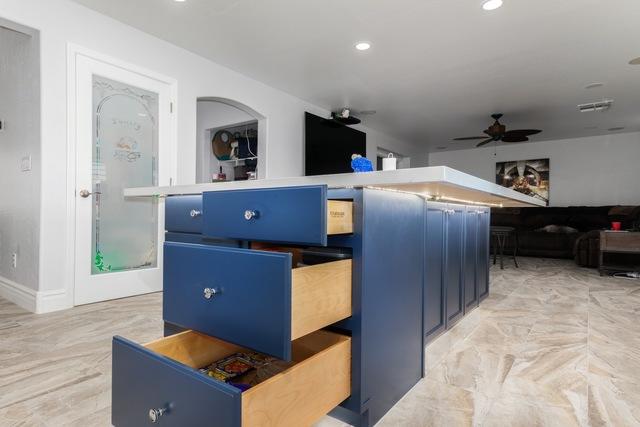 Starmark Island Cabinetry
There is a lot of storage in this oversized kitchen island. Starmark Cabinetry, Maple Stratford with Blueberry color.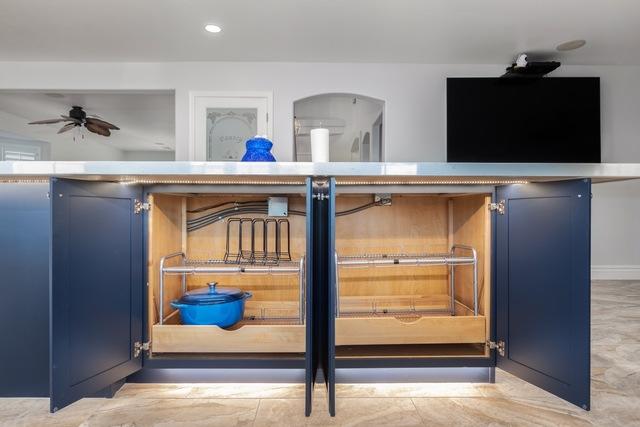 Island pullouts
The pullouts on this island make it so easy to be able to reach anything stored back in the depths of the cabinet. Perfect for baking supplies and all those gadgets that tend to take up space on our countertops.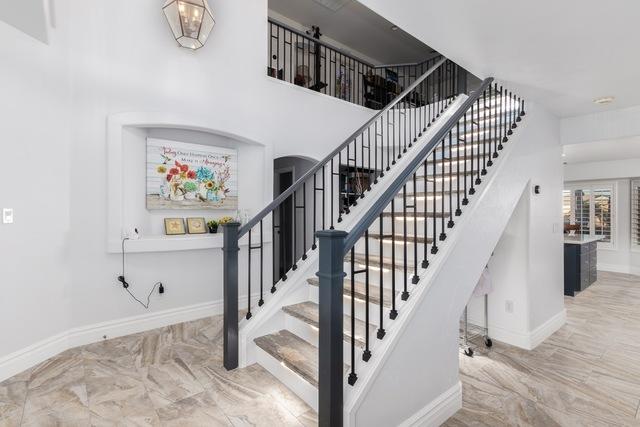 Open Staircase
Originally the walls of the staircase were full walls, closed in both up the stairs and at the top landing. Opening it up added an airier and much roomier feel to the room. The staircase was nicely done by Scott Cook Staircases.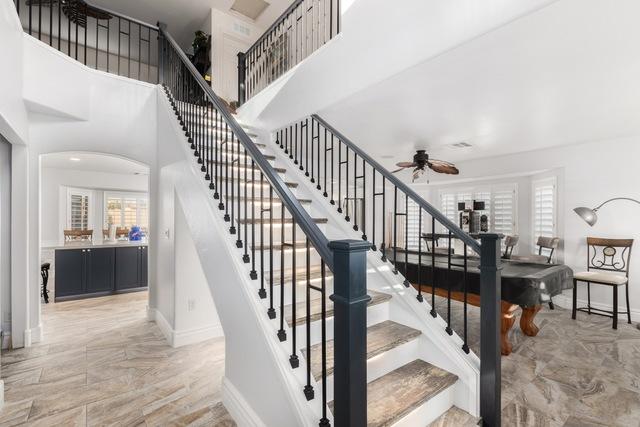 Staircase Remodel
Scott Cook Staircases did a beautiful job opening up this staircase and putting in lovely rod iron banister and rails.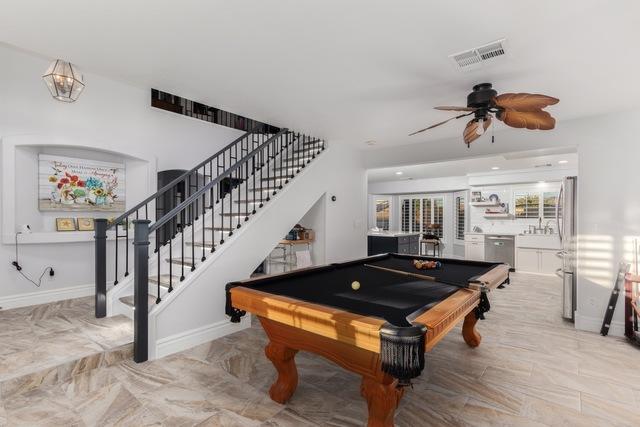 Staircase remodel
This staircase is an attractive focal point of the room. Scott Case Staircases did a beautiful job.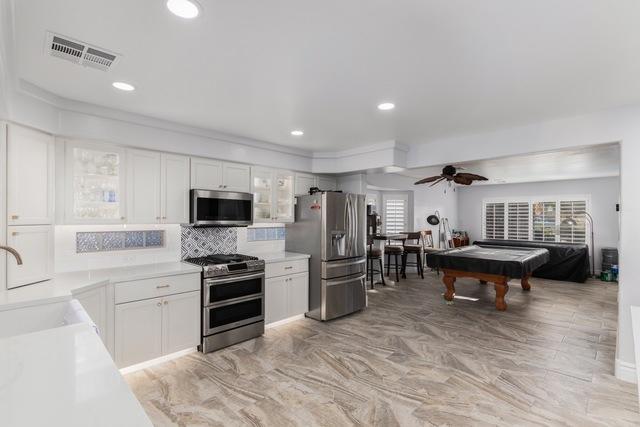 Open Concept Kitchen
The pool table, living room and kitchen are all open to each other. Now when people are together, no one is off by his or herself in any of the rooms. Great for entertaining with friends or socializing even among family.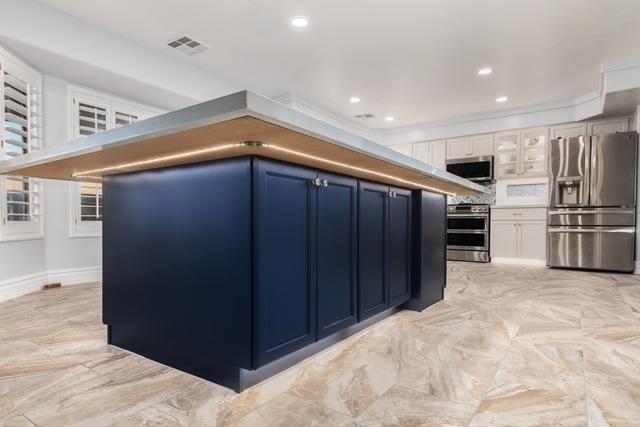 More storage
Excellent use of space where all sides of this island are accessible. Starmark cabinetry, Maple Stratford with Blueberry color.
our service area
We serve the following areas
Carefree
Cave Creek
Chandler
Fort McDowell
Fountain Hills
Gilbert
Glendale
Mesa
Paradise Valley
Peoria
Phoenix
Queen Creek
Rio Verde
Scottsdale
Tempe
Our Locations:

TraVek Inc
7661 E Gray Rd
Scottsdale, AZ 85260
1-480-739-6200