TraVek is Recognized as Honoree at 34th Annual Sterling Awards Banquet in Scottsdale
TraVek is the Honoree for the Prestigious 34th Annual Sterling Awards by the Scottsdale Chamber of Commerce for the Small Business Award. The 2019 Sterling Award Honorees were revealed at a luncheon on Friday, November 15th, at the Embassy Suites Resort in Scottsdale
Scottsdale, AZ - November 19, 2019
FOR IMMEDIATE RELEASE November 19, 2019
CONTACT: Susan Raisanen, Marketing 480-367-1171
susan@travek.com
TraVek Remodeling in Scottsdale Receives Award for Small Business at the Prestigious 34th Annual Sterling Awards
Scottsdale, Arizona (November 19, 2019) – TraVek Remodeling is pleased to announce that they have been selected as the Honoree for the Sterling Awards in Scottsdale. They were chosen from one of three finalists in the Small Business Category. This is the 34th year the Scottsdale Chamber has recognized local companies that have demonstrated excellence, innovation and community stewardship with this award.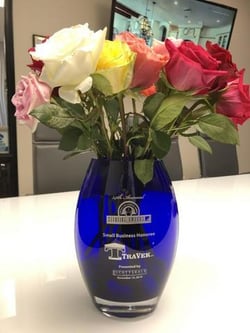 Von Raisanen, TraVek President commented, "We recognize that there are a lot of businesses that would be equally deserving, and so to be chosen as the Sterling Awards winner for this category is humbling. We thank the Chamber, its panel and members, and our community for recognizing the hard work of our entire TraVek team, and for the encouragement as we continue to work for this community and its people."
The 2019 Sterling honorees were revealed at a luncheon on Friday, November 15th, at the Embassy Suites Resort in Scottsdale.
"The Sterling Awards for Small business, companies between 6 and 99 full-time employees, recognizes a company that demonstrates success through product or service innovation, quality and professionalism, and has made contributions to community-oriented projects," said Mark Stanton, President and CEO of the Scottsdale Chamber of Commerce, at the awards banquet on Friday.
The Sterling Awards recognize the great accomplishments of businesses in Scottsdale, and represents innovation, success and the highest standards of business practice excellence, Stanton said in an earlier release.
The process leading up to the award ceremony was quite involved and required a great commitment from many people. There were 6 judges that came to TraVek (and each company) for a presentation about the company, its Mission, Vision, Values, and Goals. There were questions about its culture and the people who are employed as well as the clients it serves, and questions about associations, impact, and contributions to the community. They also asked contestants about adaptability and responding to economic changes in the industry, as well as innovation in running the business. Each judge independently scored the companies he or she visited and then tallied the points to determine the final winner of each category.
The SMALL BUSINESS category was sponsored by Cox Business.
TraVek, Inc. 15575 N. 83rd Way, Suite A4 Scottsdale, Arizona 85260 (480) 367-1171 https://www.travek.com/ TraVek is a design-build residential remodeling firm, specializing in the remodeling and building of kitchens, baths, guest homes, casitas, additions and handyman services. TraVek services clients all over the metro- Phoenix area and surrounding areas and seeks to assist the community create dream spaces, aging in place spaces, as well as the opportunity to bring families closer together through additions, mother-in-law suites and guest homes.
"The Scottsdale Area Chamber of Commerce is the largest business organization in Scottsdale, providing advocacy, education, networking, leadership and exposure opportunities to its member businesses. The Chamber actively works to maintain Scottsdale's high quality of life and create an environment where business innovation, excellence, and entrepreneurship can thrive. Serving ALL of Scottsdale since 1947!" Scottsdale Chamber Press Release, August 29, 2019.
our service area
We serve the following areas
Carefree
Cave Creek
Chandler
Fort McDowell
Fountain Hills
Gilbert
Glendale
Mesa
Paradise Valley
Peoria
Phoenix
Queen Creek
Rio Verde
Scottsdale
Tempe
Our Locations:

TraVek Inc
7661 E Gray Rd
Scottsdale, AZ 85260
1-480-739-6200