The Top 19 ADA Remodeling Projects to Improve Home Accessibility
When it comes to accessible remodeling, it's not just about meeting ADA standards but ensuring that your home is a haven of comfort and functionality. Whether you're preparing your home for your golden years or accommodating a family member with mobility challenges, there are key features to consider. Here's a comprehensive guide on ADA remodeling projects and updated features to enhance home accessibility.
Aging in Place with Elegance
There's a common misconception that home remodeling for accessibility means compromising on style. However, with today's innovative designs, you can have a home that's both stylish and accessible. By partnering with a seasoned accessibility design expert like TraVek, you can ensure your home is not only safe and comfortable but also a reflection of your personal style. Keep this guide close as you embark on your home remodeling journey in the Scottsdale area.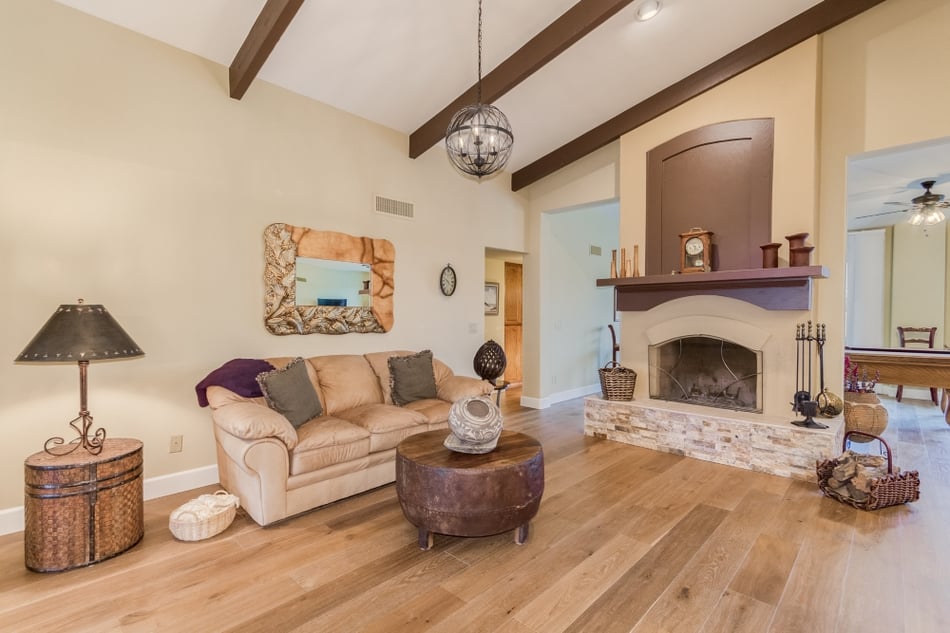 Top 7 General Home Modifications for Enhanced Accessibility
1. Stairs
Non-slip surfaces, such as indoor runners and grip strips for outdoor steps

Eye-catching contrasting on each step using alternating paint shades or wood finishes
2. Doorways, Halls, & Flooring
Doorways should be a minimum of 36 inches wide for an accessible home

Spacious and well-lit hallways for wheelchair maneuverability

Lever door hardware for ease of use

Zero thresholds for seamless room transitions and trip resistance

Contrasting color systems for noticeable floor-level changes
3. Embrace Smart Technology
Simplify life with voice-controlled smart technology

Automatic sensor lights for convenience

Voice-activated appliances and shades

Control doors and lights, and monitor video doorbells via tablets or smartphones
4. Lighting & Electricity
Maximize natural light with additional windows

Install more outlets and light fixtures

Lowered light switches with modern touch switches

Sensor lighting for automatic illumination

Energy-efficient LED bulbs and floor track lighting for nighttime navigation
5. Security
Audible and visual systems for doorbells, alarms, and detectors

Comprehensive security and intercom systems

Emergency switches for immediate assistance

Alarms connected to emergency services
6. Reduce Maintenance
Opt for easy-to-clean finishes

Use long-lasting LED bulbs

Implement built-in pet feeding systems to minimize physical strain
7. Entryways
Step-free covered entrances

Sensor lights at every entry point

Package placement surfaces

Illuminated lock systems
Top 4 Aging-in-Place Bathroom Remodeling Projects
The bathroom, often a hotspot for accidents, requires special attention. With accessible bathroom remodel solutions, you can ensure safety without compromising on style.
1. Shower
Curbless showers are not only safe but also a trending feature

Pedal and anti-scald controls

Handheld showerheads with extended hoses

Offset controls for easy access

Built-in seating
2. Sink
Wheelchair-friendly clearance

Consider a dual sink setup at different levels

Touchless faucets with temperature regulation

Faucets installed on the side of the sinks for reachability
3. Flooring
Opt for slip-resistant tiles with a matte finish

Stylish and functional stamped or penny tiles
4. Grab Bars
Towel bars, soap dishes, and toilet tissue holders that can support a person's weight blend seamlessly with your bathroom decor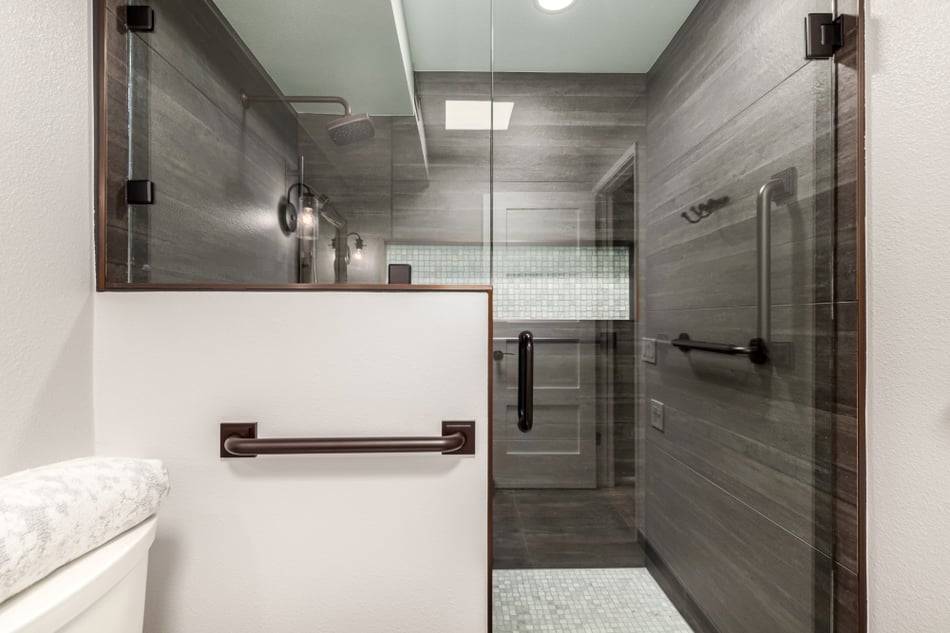 Top 5 Aging in Place Kitchen Remodeling Projects
The kitchen, another critical area, should promote safety and functionality. Here are our top recommendations for kitchen remodeling solutions.
1. Sinks
Features like lever handles, pedal controls, and anti-scald mechanisms

Shallow sinks for easy access

Side-mounted faucets

Wheelchair-friendly spaces beneath sinks
2. Counters & Cabinets
Matte-finish countertops to minimize glare

Multi-level workspaces for varied heights

Rounded countertop corners

Accessible lower cabinets with pull-out features
3. Appliances
Microwave built into the lower cabinets

Large format control panels

Elevated front-loading washers

Side-by-side refrigerator setups

Safe cooktops with clear indicators
4. Lighting
Task lighting under cabinets

Toggle light switches for easy access at a lower height
5. Flooring
Smooth, non-glare, slip-resistant surfaces

Stylish and functional flooring options
Top 3 Aging in Place Projects for a Multi-Level Home
You don't have to leave your multi-story home behind. With the right ADA home modifications, you can continue to live comfortably in the home you love.
1. Install an Elevator
To be able to access your second story more easily and safely, opt for an elevator. An in-home elevator can more easily blend in with the design of your home and just look like another closet when the door to the lift is closed. Have some fun with your elevator design and add details on the interior, like paneling and trim, a trending paint color, patterned wallpaper, and low-profile sconces.
2. Additional Primary Suite
A ground-level primary suite will also allow for adding privacy. The additional primary suite can also include a wet bar with some of the kitchen features made just for the right level of accessibility and can include a patio for morning coffee and a private place to enjoy time outside.
3. Build an In-Law Suite
If you're reading this guide as someone who's planning a remodel to welcome a loved one, you could give them more independence and privacy with an in-law suite with all the accessibility features they need. Your in-law suite–attached or detached–could have a separate exterior door, a private patio, and a well-marked and lit pathway to the main home. The smaller footprint of an in-law suite puts every need within reach while giving you peace of mind.
Choose TraVek: Your Premier Phoenix ADA Remodeling Contractor
When embarking on ADA remodeling projects to make your home more accessible and accommodating, it's crucial to recognize the immense value that comes from working with an accessibility-certified designer. These professionals possess specialized knowledge and expertise in understanding the unique needs of individuals with disabilities and can help you create a space that seamlessly combines functionality, safety, and aesthetic appeal.
At TraVek, Inc., we take pride in having accessible-certified designers on our team, who are dedicated to ensuring your project's success. By collaborating with our in-house experts, you'll benefit from their proficiency in ADA regulations, standards, and best practices, which will not only streamline the remodeling process but also guarantee compliance with all necessary requirements. Furthermore, our designers can bring innovative design solutions to the table, enhancing the overall quality of your project and making your home more inclusive and accessible. With their guidance, you can be confident that your ADA remodeling project will not only meet legal mandates but also improve the quality of life for all residents, fostering a space where everyone can thrive comfortably and independently. Reach out to us for a consultation and let's make your home a haven of safety, functionality, and style.