ADA Compliant or Accessible Bathrooms
ADA Compliant or Accessible Bathrooms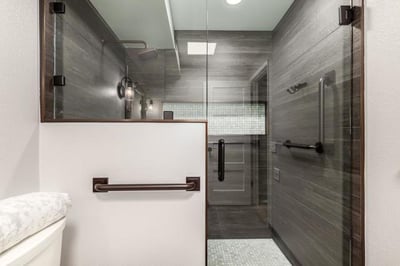 In recent years, accessibility and inclusivity have become increasingly important considerations in every aspect of design, including bathroom design. Bathrooms are a particularly crucial area for accessibility as they are essential for personal hygiene and privacy.
An ADA-compliant or accessible trendy bathroom can make a world of difference for those with disabilities, the elderly, and anyone else who may require extra assistance. Here are some essential features to consider when designing an accessible bathroom.
Space and layout. The first consideration when designing an accessible bathroom is the layout. The bathroom should be spacious enough to accommodate a wheelchair or walker. The door should be at least 36 inches wide to allow for easy access, and there should be enough turning space within the bathroom.

Grab bars and handrails. Installing grab bars and handrails throughout the bathroom is essential for those with mobility issues. Grab bars provide support and stability when getting in and out of the shower or bathtub, and handrails can be helpful for navigating around the bathroom.

Non-slip flooring. Slippery surfaces can be particularly dangerous in the bathroom, especially for those with mobility issues. Therefore, it is essential to choose non-slip flooring that provides traction even when wet. Slip-resistant tiles or vinyl flooring are excellent options for an ADA-compliant bathroom.

Height-adjustable fixtures. Installing height-adjustable fixtures, including sinks and toilets, is an excellent way to make a bathroom more accessible. These fixtures can be lowered or raised to accommodate different heights and mobility needs, making the bathroom more comfortable and functional for everyone.

Lever handles and touchless faucets. Traditional knobs and handles can be difficult to operate for those with limited hand strength or dexterity. Lever handles are a more accessible option as they can be operated with just a push or pull. Touchless faucets are also an excellent choice for an accessible bathroom as they eliminate the need for twisting or turning knobs.

Adequate lighting. Good lighting is essential in any bathroom, but it is particularly crucial in an accessible bathroom. Adequate lighting can help those with visual impairments navigate the space more easily, and it can also help prevent slips and falls.

Accessibility features in the shower or bathtub. Installing a roll-in shower or a walk-in bathtub is an excellent option for those with mobility issues. These types of showers or bathtubs eliminate the need for stepping over a high threshold, making them much easier to access. Additionally, installing a shower bench or a built-in seat in the bathtub can provide additional support and stability.
An ADA-compliant or accessible trendy bathroom can make a significant difference in the lives of those with disabilities or limited mobility. By incorporating these essential features, you can create a bathroom that is both stylish and functional for everyone.
TraVek has specially trained and certified accessibility designers on staff to help you reconfigure your living space in a beautiful way that will help you or your loved ones to stay at home for as long as is safe and possible. Call now to 1-855-221-8286 and set a time for one of our designers to visit your home to discuss how your home could be reconfigured to be more accessible.