Is It Important to Keep a Tub in a Primary Bathroom?
The Primary Bathroom Tub: Is It Still Important in Modern Design?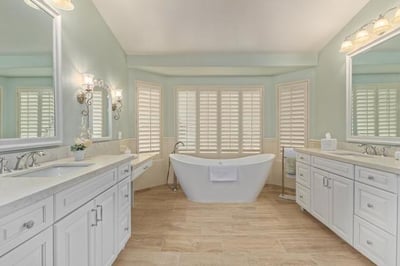 The master or primary bathroom is a sanctuary, a place where homeowners seek relaxation and tranquility. When it comes to designing this space, one important question arises: is a bathtub essential, or is it becoming a relic of the past? As trends in home design evolve and lifestyles change, the significance of a tub in a master bathroom is a topic that warrants exploration. We will take a moment to delve into the considerations surrounding the importance of a tub in a modern master bathroom and help you make an informed decision for your own space.
The Shift in Lifestyle and Preferences
In recent years, there has been a noticeable shift in lifestyle and preferences when it comes to master bathrooms. Many homeowners now prioritize functionality, practicality, and personalized design. As a result, the inclusion of a bathtub has become more of a personal choice rather than a necessity. Here are some factors to consider:
Space Constraints: The size of the master bathroom plays a crucial role in determining whether a tub is feasible or practical. In smaller bathrooms, homeowners may opt for more efficient use of space, such as a larger shower or additional storage, rather than dedicating space to a bathtub.

Lifestyle and Habits: Consider your lifestyle and bathing habits. If you rarely find yourself taking baths or prefer quick showers, allocating space to a tub may not be a priority. On the other hand, if you enjoy regular soaks and find relaxation in a bath, a tub sounds like it would be an essential feature for you.

Aging in Place: If you plan to age in your home, it's important to consider long-term accessibility and safety. Traditional bathtubs can pose challenges for individuals with mobility issues. In such cases, opting for a barrier-free shower or a walk-in tub with safety features might be a more practical choice.
Design and Aesthetics
The aesthetics and design of your master bathroom play a significant role in the decision to include a tub. A freestanding or statement tub can serve as a focal point in the bathroom, adding a touch of luxury and elegance to the space. If creating a spa-like atmosphere is important to you, a well-designed tub can contribute to that ambiance.
If you choose to forgo a tub, you can explore alternative design elements to create visual interest. A spacious and well-designed shower with modern features, such as rainfall showerheads and body jets, can be just as enticing as a bathtub.
Resale Value and Market Preferences
Another aspect to consider is the potential impact on resale value and market preferences. While personal preference should be your primary consideration, it's worth understanding the general market dynamics.
Preferences for tubs can vary depending on geographic location and cultural factors. In some markets, having a bathtub in the master bathroom may be considered an essential feature that buyers expect.
Consider, also, the potential future buyers of your home. If you are in an area where families or individuals with young children are prevalent, having a bathtub may be more desirable. However, in areas with a higher concentration of empty nesters or individuals without children, the importance of a tub may be diminished.
Really, the importance of a tub in a master bathroom is a subjective decision that depends on various factors, including personal preference, lifestyle, space constraints, and market dynamics. While a bathtub can offer relaxation and a luxurious spa-like experience, it is no longer a universally essential feature. When designing your master bathroom, consider your own needs, habits, and the long-term plans for your home. Remember, the ultimate goal is to create a space that reflects your lifestyle and provides the functionality and comfort you desire.
RELATED ARTICLE: Photos of a North Scottsdale Master/Primary Bath Remodel
Now is a great time to start planning your master or primary bath remodel. Call your Scottsdale Remodelers at 1-855-221-8286, and ask for one of our experienced designers to make a visit to your home.