What Home Renovations Add the Most Value in Arizona?
Top Home Renovations That Add Value in Arizona: Enhancing Your Desert Oasis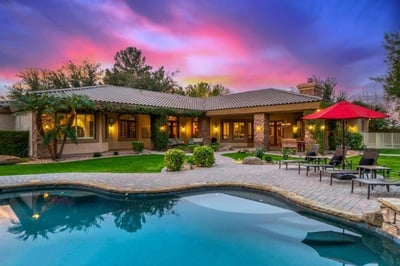 Investing in home renovations not only improves the functionality and aesthetics of your property but can also significantly increase its value. When it comes to maximizing the return on your renovation investment in Arizona, it's essential to focus on projects that align with the preferences and needs of local homeowners. In this article, we will explore the top home renovations that add the most value in Arizona, helping you make informed decisions to enhance your desert oasis and attract potential buyers
Kitchen Remodeling
A kitchen remodel consistently ranks as one of the most valuable home improvement projects. As in any region, a kitchen remodel is a valuable investment in Arizona. A visually appealing and functional kitchen often becomes a key selling point for potential buyers, making it a wise investment. Focus on modernizing your kitchen with high-quality materials, energy-efficient appliances, and functional layouts. Incorporate features like granite or quartz countertops, stylish cabinetry, and upgraded lighting fixtures. Arizona residents often value open-concept kitchen designs that flow seamlessly into the living and dining areas. A well-designed and updated kitchen can be a major selling point for potential buyers.
Bathroom Upgrades
Investing in bathroom upgrades can significantly add value to your Arizona home. Consider replacing outdated fixtures, upgrading the shower or bathtub, and enhancing storage options. There are options for water-saving fixtures like low-flow toilets and efficient showerheads if that is what you like. Pay attention to details such as tile choices, vanities, and lighting fixtures to create a luxurious and spa-like atmosphere.
Outdoor Living Spaces
In the Arizona climate, outdoor living spaces are highly sought after and can greatly enhance your home's value. Consider adding a covered patio, pergola, or ramada to provide shade and create a comfortable outdoor retreat. Install features like outdoor kitchens, fire pits, or swimming pools to create a resort-like atmosphere that complements the Arizona lifestyle. Well-designed and functional outdoor spaces expand your living area and offer a unique selling point for potential buyers.
Energy-Efficient Upgrades
With the desert heat and the rising emphasis on sustainable living, energy-efficient upgrades hold significant value in Arizona. Install solar panels to harness the abundant sunshine and reduce energy costs. Upgrade windows and insulation to improve thermal efficiency. Replace outdated HVAC systems with energy-efficient models. These improvements not only reduce utility bills but also attract environmentally conscious buyers and add value to your home.
Low-Maintenance Landscaping
In the arid Arizona climate, low-maintenance landscaping is highly desirable. Consider xeriscaping, a water-efficient landscaping approach that utilizes native plants, rocks, and mulch. Incorporate drip irrigation systems to conserve water while keeping your landscape vibrant. Well-maintained, drought-tolerant landscaping not only adds curb appeal but also appeals to Arizona homeowners who appreciate sustainable and easy-to-maintain outdoor spaces.
Smart Home Technology
Integrating smart home technology into your Arizona home can enhance its value and appeal to tech-savvy buyers. Install features like smart thermostats, security systems, lighting controls, and voice-activated assistants. These advancements offer convenience, energy efficiency, and enhanced security, aligning with the modern lifestyle preferences of Arizona homeowners.
RELATED ARTICLE: To see Qualified Remodelers Cost vs. Value Report 2023, CLICK HERE.
As it is anywhere, when planning home renovations in Arizona, it's crucial to prioritize projects that resonate with the local market and climate. Outdoor living spaces, energy-efficient upgrades, low-maintenance landscaping, kitchen remodeling, bathroom upgrades, and smart home technology integration are among the top renovations that add significant value in Arizona. By focusing on these improvements, you can create a desirable living environment, attract potential buyers, and maximize your return on investment in the vibrant and unique Arizona real estate market.
Is now the time to upgrade your home to that which is attractive in Arizona? Call your Scottsdale Remodeler now at 1-855-221-8286 and asked for one of our experienced designers to meet you at your home to discuss the project you have in mind.