– Scottsdale – Mesa
– Phoenix – Gilbert
– Cave Creek – Paradise Valley
– Carefree – Fountain Hills
- Chandler - Tempe
- Avondale - Glendale
-Peoria
Don't see your location? Contact us to learn if we work in your area!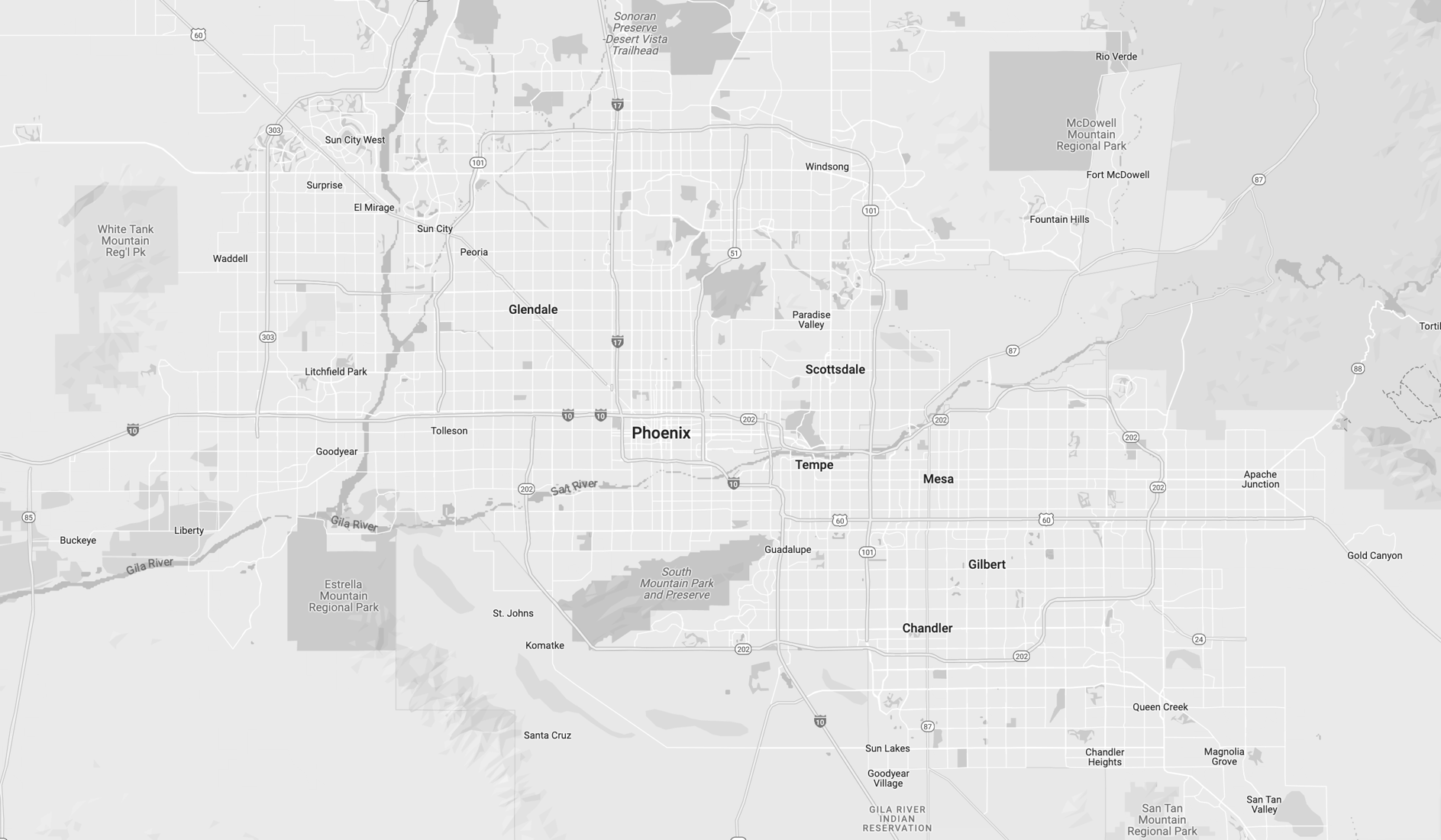 Scottsdale Remodeling
Scottsdale's vibrant lifestyle meshes upscale living with a deep appreciation for the great outdoors. Known for luxurious spas, top-tier golf courses, and an energetic nightlife, Scottsdale offers something for everyone. Residents love the blend of southwestern and contemporary architecture. With TraVek, you can remodel your bathroom or kitchen to reflect this eclectic aesthetic, balancing modernity, rich regional traditions, and upscale living.


Paradise Valley Remodeling
An enclave of tranquility amidst the bustling Phoenix Metro area, Paradise Valley features a stunning landscape, luxury resorts, and golf courses–living up to its name. Residents delight in the town's scenic views and private atmosphere, surrounded by timeless desert architecture. TraVek's remodeling experts are ready to help you reimagine your Paradise Valley home to complement this unique and stunning environment.


Gilbert Remodeling
Gilbert embodies a blend of suburban comfort and vibrant community spirit. The town boasts family-friendly neighborhoods with a range of home styles, from contemporary residences to charming ranch-style houses. Gilbert's well-planned urban landscape is complemented by parks, top-rated schools, and a thriving local scene. Whether you're looking to incorporate an inviting atmosphere or bring modern flair to your living spaces, our expert team at TraVek is here to guide you through the process.


Glendale Remodeling
Nestled in the heart of the Valley of the Sun, Glendale, AZ, boasts a dynamic fusion of urban living and desert charm. The city offers an eclectic mix of homes, from modern residences that reflect the city's progressive spirit to cozy bungalows that exude warmth. Glendale's lively cultural scene, sports enthusiasm, and local festivities create a sense of community that appeals to all. Whether you're envisioning a renovation that respects the city's unique vibe or seeking to introduce contemporary elements into your living spaces, TraVek is your trusted remodeling partner.


Phoenix Remodeling
Phoenix offers a diverse and dynamic blend of urban and suburban lifestyles. Parks and open spaces provide plenty of opportunities for outdoor activities, from biking to hiking. Mid-century ranch-style houses, contemporary dwellings, and Mediterranean-style homes make up the architectural landscape. TraVek understands the unique blend of historical and modern influences that characterize the area, ensuring your kitchen remodel or bathroom remodel enhances your home's aesthetic and functional appeal.
Chandler Remodeling
Chandler combines modern living with a touch of Southwestern allure. The city offers a diverse array of homes, from sleek contemporary designs to cozy bungalows, all set against the backdrop of its desert landscape. Chandler's excellent schools, parks, and cultural amenities enhance its appeal, providing a welcoming environment for families and individuals alike. No matter the end style goal of your renovation, TraVek is your trusted partner for a seamless remodeling journey.


Tempe Remodeling
Tempe, Arizona, is a vibrant city nestled in the Phoenix metropolitan area, renowned for its blend of urban energy and desert beauty. Home to Arizona State University, Tempe offers a diverse cultural scene, a bustling downtown area, and a variety of housing options, from modern apartments to southwestern-style homes. With a strong sense of community, outdoor recreation opportunities, and a dynamic arts environment, Tempe captures the essence of modern southwestern living. The TraVek team is here to make your Tempe remodel a success.


Cave Creek Remodeling
Cave Creek is a true representation of Arizona's rugged charm and distinct Western legacy. The town is surrounded by majestic mountains and the lush Sonoran Desert. Cave Creek's cozy, ranch-style homes and haciendas also exhibit modern convenience and style. Whether your goal is to maintain the historic character of your home during your whole home remodel or introduce contemporary updates in your kitchen or bathroom, TraVek stands as your go-to remodeling partner.


Fountain Hills Remodeling
Fountain Hills is a captivating desert retreat that leaves an indelible mark on all who experience its beauty. Nestled amidst the majestic McDowell Mountains, this picturesque town is a haven for nature lovers and outdoor enthusiasts. TraVek has experience remodeling a variety of home types, including Southwestern adobe, contemporary designs, territorial-style residences, and ranch-style houses, all of which are popular here.


Mesa Remodeling
Mesa embodies a vibrant blend of urban energy and desert tranquility. The city's housing options encompass a wide range of styles, from modern townhouses to traditional adobe-inspired homes, all set within the picturesque desert surroundings. Mesa's rich cultural scene, outdoor activities, and educational opportunities contribute to its dynamic community. Add unique character or inject modern comfort into your home with TraVek's home remodeling team.



Carefree Remodeling
Carefree, Arizona is a hidden gem nestled amidst the breathtaking Sonoran Desert landscape. Known for its laid-back ambiance and tranquil charm, this quaint town features
Southwestern adobe, desert contemporary, territorial, and ranch styles. With TraVek you can showcase earthy tones, open layouts, and connections to the desert landscape as you remodel your Carefree home.
What your neighbors are saying...