Will a Bathroom Remodel Increase Your Home Value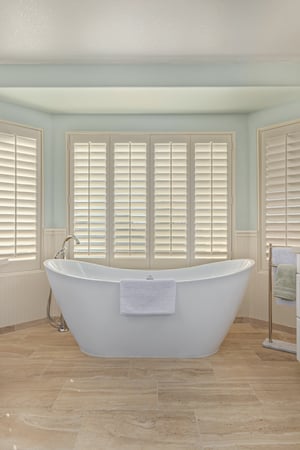 Are you thinking about giving your bathroom a fresh look? Maybe you're wondering if a bathroom remodel is a smart investment that would boost your home's value. Well, you're not alone! Many homeowners ponder this question before taking the plunge into a bathroom renovation project. Let's explore the potential impact of a bathroom remodel on your home's value.
The Bathroom: One of the Most Visited Spaces in a Home!

Your bathroom is a special place in your home. It's where you start and end your day, and it plays a crucial role in your daily routine. So, it's no surprise that a well-designed and functional bathroom can be a big selling point when it comes to your home's value.
The Benefits of a Bathroom Remodel
Some of the benefits of a bathroom remodel include the obvious: It looks nice! Upgrading your bathroom can make it more attractive and visually appealing. New fixtures, tiles, and a fresh coat of paint can transform the space, making it more inviting and almost a place of refuge in the home.
A bathroom remodel should typically improve the functionality of the space. Adding more storage, installing modern fixtures, and optimizing the layout can make your daily routines more convenient. This is attractive and adds to the value of your home.
Some people like the low-flow toilets so that not as much water is used for each flush. By using these and/or installing energy-efficient fixtures, such as LED lighting, you will save money on utility bills, which is an attractive feature for some potential buyers.
Last, but not least, doing a bathroom remodel allows homeowners the chance to use higher-quality materials and fixtures. This can increase the durability of your bathroom, which is a selling point for potential buyers.
The Impact on Home Value
While a bathroom remodel can undoubtedly improve your home's overall value, the extent of the increase depends on several factors:
Location: The neighborhood you live in plays a significant role. If your home is in an area with high demand, an updated bathroom can have a more substantial impact on its value.

Quality of the Remodel: The quality of the materials, workmanship, and design choices can affect the outcome. A professionally done remodel is likely to have a better return on investment.

Trends and Styles: Staying up to date with current design trends can attract potential buyers. Neutral and timeless designs are often the safest bet.

Comparable Homes: Your home's value should be in line with similar properties in your area. An over-the-top bathroom remodel in a modest neighborhood might not provide a great return.

Return on Investment (ROI): While a bathroom remodel can increase your home's value, it might not always result in a dollar-for-dollar return. However, it can make your home more appealing to buyers and help it sell faster.
When discussing a bathroom remodel with your designer, these are very important things to talk about. They will most likely have looked at the neighborhood comps and the value of your home so that can be taken into consideration as part of your decision-making process. Are you remodeling to increase the value for resale, or are you remodeling for your own comfort and convenience? Are you budgeting enough for the location you're living in, or are you putting in much more than would be necessary?
A bathroom remodel can indeed increase your home's value. It enhances the aesthetics, functionality, and overall appeal of your home, making it more attractive to potential buyers. However, the exact impact on home value can vary based on location, quality of the remodel, and other factors. It's important to strike a balance between creating a beautiful, functional bathroom and ensuring a good return on your investment.
Before starting a bathroom remodeling project, it's a good idea to consult with a professional contractor who can guide you in making the right choices for your specific situation. Remember that the ultimate goal is not only to increase your home's value but also to create a space that you can enjoy and be proud of while you live in your home.
Call 480-367-1171 now to schedule an in-home consultation.