What Are the Benefits of a Design-Build Remodeling Contractor?
Streamlining Your Remodeling Journey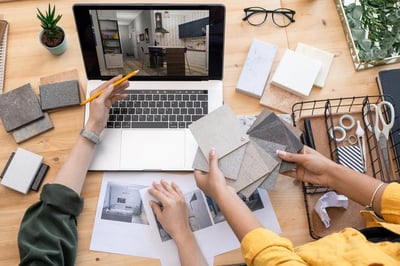 Embarking on a home remodeling project can be an exciting yet overwhelming experience. From conceptualizing designs to managing construction, the process can be complex and time-consuming. That's where a design-build remodeling contractor such as TraVek, Inc. comes in. Design-build firms offer a streamlined approach that integrates design and construction services under one roof. Let's talk about the numerous benefits of hiring a design-build remodeling contractor, and highlight how this approach can simplify your renovation journey and deliver exceptional results.
There is a Seamless Collaboration
One of the primary advantages of a design-build remodeling contractor is the seamless collaboration between design and construction teams. By working together from the project's inception, the contractor and designers can align their visions, exchange ideas, and troubleshoot potential challenges effectively. This collaborative approach ensures a smooth transition from the design phase to construction, reducing the likelihood of miscommunication or delays.
There is Efficient Project Management
Design-build firms take full responsibility for the entire remodeling process, from initial design plans to final construction. This comprehensive project management approach eliminates the need for homeowners to coordinate multiple parties, such as architects, designers, and contractors. The design-build contractor assumes responsibility for scheduling, budgeting, and overseeing the entire project, allowing homeowners to focus on their day-to-day lives with peace of mind.
There is Streamlined Communication
When working with a design-build remodeling contractor, you have a single point of contact for all aspects of your project. This streamlined communication ensures that information flows smoothly between the design team, construction crew, and you as the homeowner. Any concerns or changes can be addressed promptly, minimizing confusion and maximizing efficiency throughout the renovation process.
There is Time Savings
Design-build contractors offer time savings by eliminating the need for multiple bidding processes and potential conflicts between architects and contractors. The integrated approach allows the design-build team to assess costs early in the design phase, ensuring that the project remains within your budget. Additionally, the streamlined process often results in shorter construction timelines since construction can begin while design details are being finalized.
There is an Enhanced Design Cohesion
A design-build remodeling contractor understands the importance of cohesive design. By working closely with the design team, the contractor can ensure that the construction and finishes align with the overall vision for your home. This integrated approach helps maintain design continuity throughout the remodeling process, resulting in a harmonious and aesthetically pleasing final outcome.
There is Increased Accountability
With a design-build firm, accountability is consolidated under one entity. The contractor takes responsibility for the entire project, including design, permits, material selection, and construction. This accountability ensures that any issues or challenges that arise are addressed promptly and efficiently, without homeowners having to navigate between different parties to find resolutions.
There is Quality Assurance
Design-build remodeling contractors often have a portfolio of successfully completed projects, providing reassurance of their expertise and craftsmanship. With their in-house team of designers and skilled tradespeople, they have control over the quality of work throughout the entire remodeling process. This dedication to quality ensures that your renovation meets or exceeds your expectations.
As you can see, hiring a design-build remodeling contractor offers numerous benefits for your home renovation journey. From streamlined collaboration and project management and enhanced design cohesion, the design-build approach simplifies the process and delivers outstanding results. By entrusting your project to a design-build firm, you can enjoy a seamless and efficient remodeling experience, knowing that your vision is in capable hands from start to finish.
TraVek, Inc. has been in the Design-Build Scottsdale Remodeling services since 2001. Isn't it time to start the plans for your remodeling project? Call now to 1-855-221-8286 and ask for one of our experienced designers to visit your home.