How Are Europa Frameless Cabinets Made?
A Fusion of Craftsmanship and Precision Engineering
With Europa cabinets, you can transform your kitchen into a space that combines style and sophistication with the highest standards of quality.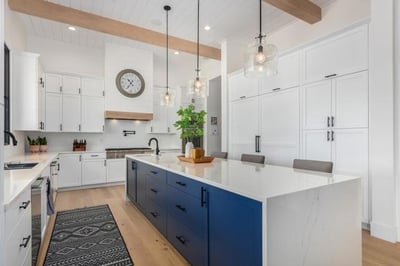 Europa cabinets are renowned for their exceptional quality, exquisite design, and impeccable functionality. Behind their stunning appearance lies a meticulous and sophisticated manufacturing process that combines the artistry of craftsmanship with the precision of engineering. Let's take a closer look at how Europa cabinets are made, from the initial design stages to the final product that graces your kitchen.
The process of making Europa cabinets begins with innovative design and conceptualization. Skilled designers, architects, and engineers collaborate to create cabinet blueprints that integrate functionality, style, and the latest trends in kitchen design. The designers take into consideration the needs and preferences of homeowners, as well as the available space and architectural constraints. Through computer-aided design (CAD) software, the design team brings the vision to life, ensuring that every detail is carefully considered.
Europa cabinets are built with the highest quality materials to ensure durability and longevity. The selection of materials is a crucial step in the manufacturing process. A range of materials may be chosen, including solid hardwoods, veneers, laminates, and engineered wood products. Each material is carefully selected for its specific properties, such as strength, resistance to moisture, and aesthetic appeal. The materials undergo rigorous testing to ensure they meet stringent quality standards.
Once the design and material selection are finalized, the manufacturing process moves to the cutting and shaping stage. Advanced machinery and computer-controlled cutting tools are employed to achieve precise dimensions and intricate shapes. This stage requires skilled technicians who use their expertise to operate the machinery and ensure accurate cuts and shaping. The panels, shelves, doors, and other components are carefully cut to the specified dimensions, ready for assembly.
Assembly and joinery are integral to the construction of Europa cabinets. Skilled craftsmen meticulously join the various components using specialized techniques. Depending on the design, joinery methods may include dovetail joints, mortise and tenon joints, or hidden fasteners. The goal is to create a sturdy and seamless structure that can withstand the demands of daily use. Each joint is carefully inspected to ensure its strength and longevity, guaranteeing that the cabinets will stand the test of time.
The finishing stage brings Europa cabinets to life, adding the final touches of elegance and refinement. Skilled finishers apply a variety of techniques, such as sanding, staining, painting, or applying specialized finishes like lacquer or varnish. The chosen finish enhances the natural beauty of the materials and provides protection against wear and tear. Attention is also given to the smallest details, such as adding decorative moldings, hardware, and accessories, which further enhance the aesthetics and functionality of the cabinets.
Before Europa cabinets are ready for installation, they undergo stringent quality control measures to ensure they meet the highest standards. Each cabinet is meticulously inspected for consistency, structural integrity, and overall craftsmanship. This includes checking for proper alignment, smooth operation of doors and drawers, and adherence to design specifications. Any imperfections or issues are addressed and resolved to ensure that only the finest cabinets reach the customers' homes.
Europa cabinets are installed by skilled professionals who ensure precise fitting and alignment. They work closely with homeowners to ensure that the cabinets are installed according to their preferences and kitchen layout. The installation process is an opportunity to ensure customer satisfaction, as installers address any concerns and make adjustments as necessary. This attention to detail and commitment to customer satisfaction ensures that homeowners can enjoy their Europa cabinets to the fullest.
They are the result of a meticulous manufacturing process that combines artistic craftsmanship with cutting-edge engineering. From the initial design stages to the final installation, every step is undertaken with precision and attention to detail. They exude elegance, style and quality. Europa cabinets are a great choice for the luxury home and the discerning homeowner.
Call now to 1-855-221-8286 and set a time for one of our experienced designers to meet with you at your home to discuss your kitchen remodeling needs. Now is a great time to start putting together the dream to make it a reality.
Together, Building Dreams for More Than 20 Years.