Remodel My Laundry Room: The Dream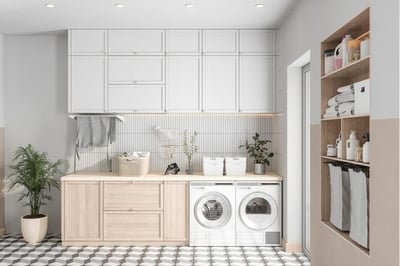 Scottsdale and Phoenix homeowners continue to invest in their homes to make them more functional, enjoyable and valuable. Our office has received an increasing demand for more efficient, effective and beautiful laundry rooms, in addition to kitchens and bathrooms and other spaces in a home.
There are several keys to creating a dream laundry room space. One is having sufficient space. A minimum square footage is necessary if you want a laundry space that features storage cabinets, a sink, washer and dryer and room to maneuver. Take a close look at the layout of your laundry room, the type of appliances you have, and the storage options available. Note what works and what doesn't, and identify any areas for improvement.
Next, determine your needs and priorities for the laundry room. Do you need more storage space? Do you want to add a folding area or a sink? Would you like to incorporate a space for ironing or steaming clothes? Determining your needs and priorities will help you create a laundry room that is tailored to your specific needs.
Many of the conveniences that make a kitchen more functional and enjoyable to use can be applied to laundry spaces. Pull out hampers provide a convenient and hidden space to deposit clothes that need to be washed. Drying racks in the laundry space are another welcomed feature of a well-designed laundry. When possible we specify drying racks above a heat vent.
Once you have assessed your current space and determined your needs, it's time to plan the layout of your new laundry room. Consider the placement of appliances, storage solutions, and any additional features you want to include. It's important to make sure that the layout is efficient and functional. People are tired of cramped and cluttered rooms.
Choosing the right appliances is crucial in creating an efficient laundry room. Consider the size of your family and the amount of laundry you typically do when selecting your appliances. Front-loading washers and dryers are popular choices as they are energy-efficient and offer a sleek and modern look.
One of the most important features of a laundry room is storage. This is something that we hear over and over. A laundry room is often a storage area for brooms, vacuums, ironing boards, mops and other cleaning equipment. We often recommend including a power outlet in storage closets that can be used to recharge vacuums and that other equipment. You want to make sure that you have ample space to store laundry supplies, cleaning products, and other household items. Cabinets, shelves, and storage baskets are all great options for maximizing storage in your laundry room.
Don't be afraid to add a splash of color to your laundry room. A fresh coat of paint or colorful wallpaper can add personality and warmth to the space. Consider incorporating a bold accent wall or choosing a colorful tile for the floor.
And last but not least, in addition to being aesthetically pleasing, your laundry room should also be functional. Consider adding a drying rack or a retractable clothesline for air-drying clothes. A built-in ironing board or steamer can also be a great addition to your laundry room.
If you want to create a laundry space that will provide the performance and convenience that your family wants and needs and can greatly enhance the value of your home, please call us at 1-855-221-8286 and ask for one of our experienced designers to visit your home. L
et us show you how to create a space that makes doing laundry a pleasure.