Hottest Kitchen Design and Trends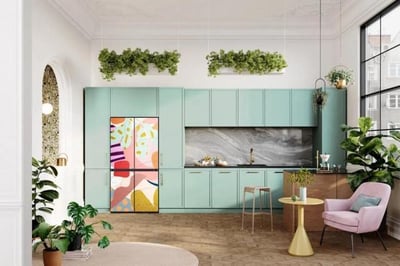 The kitchen is often referred to as the heart of the home. It's where family and friends gather to cook, eat, and socialize. Kitchen design has come a long way over the years, from being purely functional to a space that is both functional and aesthetically pleasing. Homeowners are investing in their kitchens more than ever, resulting in countless kitchen design trends to choose from. In this article, we'll explore the latest trends in kitchen design and how they can transform your home.
Smart Kitchens
The rise of smart home technology has transformed the way we live, and it's no surprise that the kitchen has caught up. Smart kitchens are becoming increasingly popular, with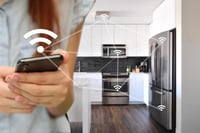 appliances that can be controlled using your phone or voice commands. For example, smart fridges can tell you when you're running low on groceries, and ovens can be preheated remotely so you can get dinner started while you're still at work.
But it's not just about convenience. Smart kitchens can also help you save money and reduce waste. For example, some smart appliances can help you keep track of expiration dates and suggest recipes based on the ingredients you have on hand. Others can monitor your energy usage and suggest ways to reduce your consumption.
Minimalism
Minimalism is a trend that has been gaining momentum in recent years, and it has made its way into the kitchen as well. A minimalist kitchen is characterized by simple, clean lines and uncluttered countertops. This trend emphasizes functionality over form, making it a popular choice for those who value efficiency and practicality.
To create a minimalist kitchen, start by decluttering your countertops. Remove any appliances or accessories that you don't use on a daily basis. Then, consider installing cabinets and drawers with hidden pulls or handles to create a seamless look. Choose a neutral color palette and opt for simple, geometric shapes for your fixtures and fittings.
Colorful Cabinets
For many years, kitchen cabinets were limited to white, beige, or wood tones. However, in recent years, colorful cabinets have become increasingly popular. From bright blues to deep greens, colorful cabinets can add a touch of personality and character to your kitchen.
When choosing a color for your cabinets, consider the overall style of your home. If you have a modern home, you might want to choose a bold, bright color to make a statement. If you have a more traditional home, a deep, rich color like navy blue or forest green can add a touch of sophistication.
Open Shelving
Open shelving has been a trend for a few years now, and it shows no signs of slowing down. Instead of traditional cabinets, open shelves allow you to display your favorite dishes, cookbooks, and other kitchen accessories. This trend is perfect for those who want to create an airy, open feel in their kitchen.
To create an open shelving display, start by removing any unnecessary items from your kitchen. Then, choose a few key items to display on your shelves, such as a set of matching dishes or a collection of vintage kitchen tools. Mix in a few decorative items, like plants or vases, to add a touch of visual interest.
Natural Materials
As homeowners become more environmentally conscious, natural materials are becoming increasingly popular in kitchen design. Stone, wood, and other natural materials can add warmth and texture to your kitchen while reducing your carbon footprint.
When choosing natural materials for your kitchen, consider the overall style of your home. If you have a modern home, you might want to choose a sleek, polished stone countertop. If you have a more traditional home, a rough-hewn wood countertop can add a touch of rustic charm.
Mixed Metals
Gone are the days of matching hardware and fixtures. Using mixed metals in kitchen design is becoming increasingly popular as it can add depth and interest to the space. It involves using different types of metals, such as copper, brass, stainless steel, and nickel, in various finishes to create a unique and stylish look.
Is it time to update your kitchen? Whether you're looking to keep the layout, but replace the cabinetry, fixtures, and lighting or if you're looking to completely change the layout, our experienced and certified designers are happy to come to your home to see how they can help. Call now for your in-home consultation. 1-855-221-8286