What To Consider When Remodeling a Masterbath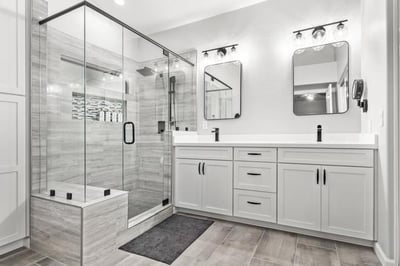 A master bathroom is one of the most important spaces in a home. It's a place to relax, unwind, and rejuvenate after a long day. Remodeling your master bathroom can be a great way to enhance your home's value, comfort, and aesthetic appeal. If you're in Scottsdale or the Phoenix Valley and are considering a master bath remodel, there are a few things to keep in mind.
Firstly, you'll want to decide on your budget. When budgeting for a bathroom remodel by a professional, there are several important factors to consider. Here are some of the key things to keep in mind in regards to the budget:
Scope of the project: The first thing to consider is the scope of the project. Are you looking to do a complete gut renovation or just update certain elements of the bathroom? The scope of the project will have a significant impact on the cost.

Materials and finishes: The materials and finishes you choose for your bathroom will also impact the cost of the remodel. High-end materials like natural stone and custom cabinetry will cost more than basic options like laminate and pre-fabricated cabinetry. What do you desire for your home?

Plumbing and electrical work: If you're making significant changes to the layout of your bathroom, you may need to make updates to the plumbing and electrical systems. This will add costs to the project.

Labor costs: Labor costs will vary depending on the complexity of the project and the experience level of the contractor. Be sure to work with someone you trust to give you the quality you want.

Permits and inspections: Depending on where you live, we may need to obtain permits and have inspections done for certain aspects of the remodel. These costs should be factored into your budget. TraVek will take care of obtaining all of these permits and scheduling the inspections for our projects.

Contingency fund: Finally, it's important to set aside a contingency fund to cover unexpected expenses that may arise during the project. A good rule of thumb is to set aside 10% of the total project cost for contingencies.
Next, you'll want to consider the layout and design of your master bathroom. This is where an experienced bathroom designer can help you make the most of your space. They can work with you to create a functional layout that meets your specific needs and desires. For instance, if you have a large family, you may want a double sink or a separate shower and bathtub. If you're a couple, you may want a larger vanity with more counter space.
When it comes to the design, you have a lot of options to choose from. You can go for a modern, minimalist look, or opt for a more traditional or rustic design. You can choose a theme or color scheme that fits your personal style, or go for a neutral palette that will stand the test of time. The possibilities are endless, but it's important to choose a design that you'll love for years to come.
Another important consideration is the fixtures and finishes. From faucets to lighting, every detail counts. You'll want to choose high-quality fixtures that are both functional and aesthetically pleasing. For instance, a rainfall showerhead and a jetted tub can add a luxurious touch to your master bathroom, while dimmable lighting can set the mood for a relaxing soak.
Here in Arizona, you'll also want to consider the climate when planning your master bath remodel. Our state is known for its hot, dry weather, so you may want to choose materials that can withstand the heat and humidity. For instance, porcelain and ceramic tiles are popular choices for bathroom flooring and walls, as they are moisture-resistant and easy to clean.
A master bath remodel is a great investment for your home. It can enhance your quality of life, add value to your property, and give you a space to escape and recharge. If you're considering a master bath remodel in Arizona, whether you choose to work with TraVek or some other company, be sure to work with an experienced and reputable contractor who can guide you through the process and help you achieve the bathroom of your dreams.