Why is Design So Important to a Kitchen Remodel?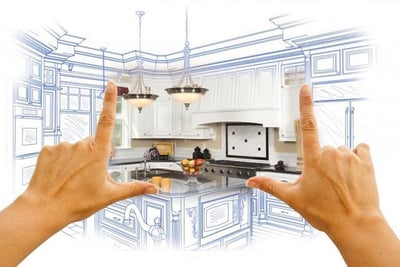 We have been offering design services for more than twenty years in Scottsdale because we and our clients have seen the importance of a well-thought out remodel. There have been the unfortunate circumstances of remodels that were completed, and only then did some homeowners realize that they did not think the whole project through well enough, and now they need to either put up with or add to the cost by changing something that could have been prevented or planned well in the first place.
Going through a design process is crucial to the success of a kitchen remodel for several reasons:
Functionality: A well-designed kitchen maximizes the use of available space and ensures that the kitchen functions efficiently. The design should consider the needs of the homeowner, the type of cooking that will be done in the kitchen, and the number of people who will be using the kitchen.

Safety: A well-designed kitchen takes into account safety features such as proper lighting, ventilation, and placement of appliances. The design should also consider factors such as fire safety and the prevention of slips, falls, and other accidents.

Aesthetics: The kitchen is known as the heart of the home and a well-designed kitchen can greatly enhance the overall aesthetic appeal of the home. The design should take into account the homeowner's style preferences, the current design trends, and the overall feel of the home.

Resale value: A well-designed kitchen can significantly increase the resale value of a home. A prospective buyer will often pay a premium for a home with a well-designed kitchen that is both functional and aesthetically pleasing.

Cost-effectiveness: A well-designed kitchen can save money in the long run by ensuring that the space is utilized efficiently, reducing the need for costly renovations or repairs in the future.
In short, design is essential to a kitchen remodel because it ensures functionality, safety, aesthetics, and cost-effectiveness. A well-designed kitchen can greatly enhance the overall value of a home and improve the quality of life for the homeowner.