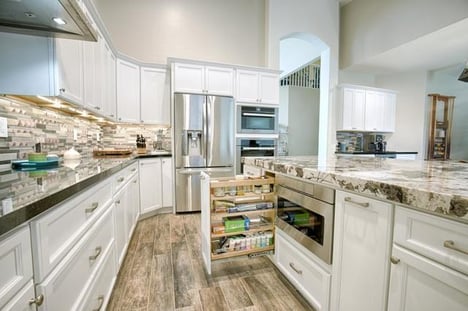 When visiting with our clients, one of the most frequent regrets among homeowners in Scottsdale and the Phoenix area who have renovated their kitchens in the past is not having paid more attention to organizational tools and storage needs. This is such an important question when we as designers are trying to understand how a kitchen is used, and what would help make their use of it easier. We always have a discussion asking how often they use the kitchen to cook, do they entertain, do they hold family gatherings, is there more than one cook in the kitchen and so on. By having these conversations and knowing this, it is easier to propose a storage and functional plan that will work for them.
The options are almost endless! Where do we store cookware, food, utensils, countertop appliances, recycling containers, and so on? Spice cabinets or not?
The most popular organization tools among homeowners in Scottsdale include the following:
Roll-out shelves that are specified for lower cabinets. We all know how inconvenient it can be when we have to get down on our knees to reach to the very back of a base cabinet. By using pull-out shelves, the cook can see the entire contents of the shelf, making it easy to find what they need.
Drawer pegboard systems with adjustable screw-in dowels that are used to store plates. Yes, plates in a deep drawer!
Baskets and storage containers that are often used for food storage.
Drawer dividers that are customizable to effectively store utensils that are not uniformly sized. We've all seen the organizers that are bursting with ill-fitting utensils and then the drawer has leftover space that we crowd with other miscellaneous utensils.
Pan organizers that allow us to stand pans on their side and make them easily accessible instead of piling the pans on each other and having to constantly remove and replace the whole pile as we inevitably use the pan at the bottom the most.
Cabinet risers, a flat (often metal) surface with four legs that serve as a freestanding ledge to store bowls, ramekins, plates, and other serving pieces. Risers turn open spaces into custom storage solutions.
Lazy Susans installed in corner cabinets not only create additional storage, but they also help a person easily access and organize kitchen supplies. Some Lazy Susans include shelves that swing out with drawer modules for easy pull-out. Tiered Lazy Susans require more vertical space and improve access to out-of-reach items.
Vertical storage cabinets can often make use of small spaces that might otherwise go unused, such as spaces next to the range or kitchen sink. Believe it or not, vertical storage is also appropriate for cutlery. It's pretty easy to divide a drawer into small deep individual compartments for knives, forks, teaspoons, soup spoons, and salad forks.
We often create drawers within drawers to maximize space in deep drawers. A top layer may be used for cutlery, below is a second drawer for dishes, and below that is another drawer for pots and pans. These drawers within drawers slide individually with the top-drawer designed to house items used most often.
Many existing kitchens include mixers, blenders, juicers, and coffee pots sitting on the counter either because there is insufficient cabinet space, or because they are too cumbersome to always be putting into the cupboard. There are beautiful options of countertop "garages" to keep these out of sight, have an uncluttered countertop and a nice, clean look.
If part of your reason for remodeling your kitchen is because of functionality and lack of storage, we would love to to talk with you. Call us at 1-855-221-8286 and set a time for one of our experienced designers to visit with you at your home and see how we could help turn your kitchen from dated and cluttered to clean and updated.