How Do You Want Your Kitchen to Feel?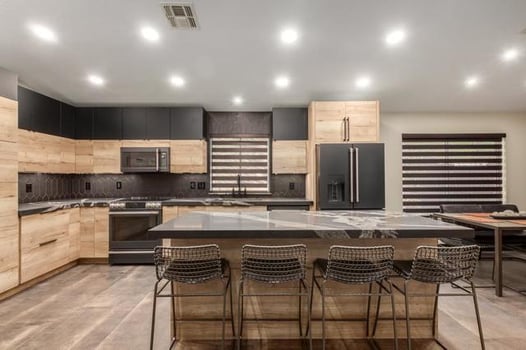 Designers ask all kinds of questions, and there are times when a homeowner may be caught off guard and wonder why they ask the questions they ask. For example, we often ask our clients how they want their new kitchen or bath to feel when the project is complete? What we are trying to understand is what features of a new kitchen or bath will strike a chord with our clients. A well-designed kitchen is not only functional and beautiful, but it also hits the mark emotionally. It gives out a feeling as you enter it. Experienced and outstanding designer enable homeowners in Scottsdale to make a personal statement that resonates with family and friends.
It is almost impossible to create a kitchen that combines superb functionality with beauty and emotional connection if you do not rely on a kitchen design professional. Contractors may know how to install kitchens but rarely do they bring the same level of design expertise that is offered by a professional kitchen and bath showroom. You will know you are dealing with a pro that you can trust by the questions they ask. When speaking with prospective clients and trying to get an understanding of what they want, we need to know about our clients' lifestyles and preferences, the lifestyles of those who will be using the kitchen regularly. Before moving forward with a designer, you should feel confident that the designer you select to create the kitchen of your dreams truly understands interior spaces and how those spaces are to look, feel and function.
Homeowners in Scottsdale frequently ask what type of cabinets best suit their needs, preferences and budgets. The answer almost always depends on the style of the home and the look and feel that the client wants to achieve. Your cabinet style should match your home's decor. For homes with a modern or transitional style, we will often recommend frameless cabinets. Frameless cabinets are built without a face frame. They have minimal space between the doors and drawers, which maximizes interior storage and drawer space. In fact, they offer 10 to 15% more storage than framed cabinets.
Framed cabinets feature several pieces of wood that are fastened to the forward edge of the cabinet to create a frame, thus the name "framed cabinets". The inside part of the frame extends slightly past the inside edges of the box, and provides structural support for the cabinet. The doors and hinges of a framed cabinet attach to the face frame, allowing more stability for the box. However, framed cabinets have a smaller opening than frameless because the frame reduces the amount of available storage space inside the cabinet box.
Another common question related to cabinets is color. Recent industry surveys found that white continues to dominate kitchen cabinet colors; however, it is starting to diminish and we're seeing a trend toward natural wood colors and warmer tones. At the same time, we have seen a steady increase in clients who want to introduce at least a splash of color into their kitchens to create an aura and make a personal design statement.
Once cabinets are selected, we typically move onto countertop and backsplash selections. In her book, The Perfect Kitchen, Barbara Sallick explains, "Cabinets always have tops and bottoms, and the counter is the connector. The process of layering both the countertop and the backsplash, which can be two completely different materials (and I often prefer them to be), is about the way they talk to each other." Her point is well taken. Countertops and backsplashes need to connect.
We can help you make your kitchen feel like a million dollars. Give us a call at 1-855-221-8286 and ask for one of our experienced designers to visit you at your home. Perhaps we can help you learn how you can make your dream a reality.