A Home Designer Will Help Ensure Your Remodel Turns Out Just as You Wished, Plus More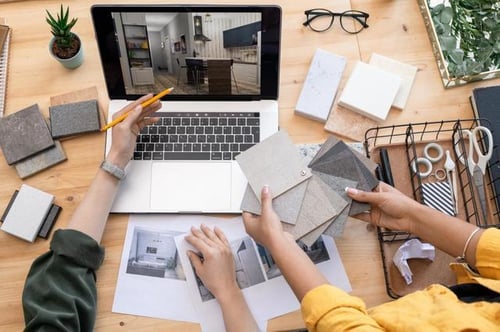 Sometimes when Scottsdale or Phoenix homeowners call our office regarding home remodeling, we hear them say they want to be their own designer. That's perfectly fine if that is what they really want to do. However, it is good to know exactly what it really means when designing and planning a remodel. Why hire a designer?
Having a designer guide a homeowner through their remodel will save time, frustration and money.
For example, a designer will look at the whole home and consider the use of it. What is the long-term goal of the homeowner; are they remodeling to sell, or are they remodeling to make the functionality better for their own family? What is necessary for the homeowners, and what is optional? What is it about the layout of the home that is working well, and what is not working well?
Keeping the wants and needs of the family in mind will help a designer organize layouts, functionality and ergonomics of the home.
The goal here is to make it work so well that nothing needs to be changed after the remodel is done. If you are working with certified designers, they have gone through the training and education programs that explain how best to arrange rooms to function well. They also know to pay attention to the little details such as a refrigerator not being set too closely to the wall so that the handle knocks the wall when it opens, or the shades on the window behind the kitchen faucet not being able to open because they are a fold up shade and the tall faucet blocks it from opening. When you open the dishwasher, will you be able to reach the cupboards to put away the dishes, or will you need to stack them on the counter until you close the dishwasher because a certain storage cupboard is inaccessible? What height are the people using the space? Do they need standard height cabinets, or higher/lower? What is the height of the dishwasher placement? Should it be raised so a person can reach it easier? They even consider the placement of light switches and outlets to make them easily accessible according to use, as well as being placed according to code. Even different paint colors affect the mood of the room and its inhabitants. What works best to serve the client? These are just a few examples of all the types of the hundreds of details a designer will pay attention to when designing your home.
Have you ever walked into a tile shop? How about a faucet fixture store? Do you know how many choices there are for sink bottoms and faucets? There are so many choices that someone who is not used to this can feel completely overwhelmed. People get confused and even anxious by too many choices. However, when working with a designer, they understand the budget and function are being considered and can quickly narrow down choices that work well together for the taste of the customer.
Most designers know who does quality work...and who does NOT!
Most designers have an abundance of resources, vendors, and subcontractors to work with that can save the customer time and eliminate any extra frustration a homeowner may have while trying to find their own resources and vendors. In the case of a Design-Build company, the company has vetted those vendors and subcontractors, and knows who does quality work and stands behind their services and products. Almost more importantly, they also know who does not.
Designers should be up on the latest trends, colors, and products. If homeowners are looking for trendy, they can deliver the latest. If they are working with a homeowner who wants a lasting design instead of something trendy, the designer can help the homeowner achieve that.
When there is more than one decision-maker as part of the buying, there are times when they are not on the same page. Often the designer can listen to truly understand what is wanted and needed, and help guide homeowners that can't seem to agree with each other on their design and bring it to a compatible decision.
We live in a time where there is great technology available for designers. A homeowner can look at their home design in such life-like drawings to see how their project will look upon completion before the space is even demolished for remodel. It is a great way to step back and look at the design as a whole, and see if any changes need to be made before cabinets or other products are ordered and installed.
TraVek is a Design-Build General Contractor with in-house designers. Having designers as part of the team is beneficial because they work directly with the construction team, and often the project has already been put together by a team approach so that everyone is on the same page and aware of the project before construction begins. In that way, the project can be expedited, when questions come up or any unforeseen changes need to be addressed, the team member is readily available. This eliminates a lot of extra coordination, time, and money.
We are happy to be able to provide excellent design with our construction services to make it a One Stop Shop and a seamless design and remodeling process for homeowners.
By using an experienced designer who listens, your finished remodeling project will be just as you wished.
It is a big deal to have a home torn apart, and it can even be a little stressful at times, but by using experienced designers to help guide a person through the remodel from design to completion, the overall process is much more simple and enjoyable. The use and aesthetics should be exactly as the homeowners had wished, if not better!