Kitchen Design Trends for 2023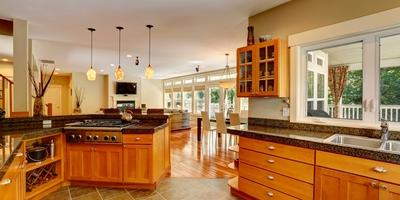 Happy New Year to you! If you are like many others, January has brought with it new goals and happenings. Remodeling is at the top of many lists, and if we can provide some help in some small way, then it's our honor.
In the last few years, the role of the kitchen has been transformed for many homeowners across the nation and even the world. We have seen it especially here among homeowners in Scottsdale. While the kitchen has always been considered the epicenter of the home, kitchens have evolved into multifunctional spaces that serve as offices, libraries, studies, classrooms, conference rooms, cafes, and hobby centers among numerous other roles. The new functional demands have fueled explosive growth in kitchen remodeling among homeowners in Scottsdale. That trend is not expected to wane in the coming year.
To help ensure that homeowners create the kitchen of their dreams, we offer the following trends that are expected to be at the forefront of kitchen design in 2023 and beyond:
1. Black finishes are no longer a fad or fleeting trend. Black matte or gloss appliances, cabinet and door hardware, and plumbing fixtures have become mainstays of new kitchen design.
2. Modern design, characterized by open floor plans and clean lines, will continue to increase in popularity. The contemporary vibe is enhanced when homeowners in Scottsdale mix and match metal finishes such as pairing black with rose gold, nickel with brass and chrome with bronze.
3. Helping to streamline the look of a modern, new kitchen is downdraft ventilation. A downdraft system integrates the ventilation directly into the cooking surface. These systems help capture smoke, steam, grease particles, and odors at the cooking surface, pulling them down and out of the kitchen before they can escape into the air. Therefore, there is no need for a bulky range hood. Downdraft ventilation systems are a great option for open floor plans, kitchen island cooktops and kitchens that lack the space for a range hood.
4. Smart faucets will continue to become smarter. Scottsdale homeowners gravitate toward touchless, voice-activated kitchen faucets that can deliver filtered, chilled, hot, and sparking water from the same tap.
5. We anticipate that the use of pops of color to make distinctive and personal design statements will become mainstream, especially when complemented by bold countertops and backsplashes that help create artistic focal points with an endless array of materials that often include stone, glass, concrete, quarters, and marble.
6. Similar to faucets, appliances are upping their IQ not only in functionality but also in ease of use. We've seen a significant uptick in built-in coffee machines and a preference among homeowners to horizontally place wall ovens and microwaves at eye level to eliminate the need to stoop or bend down to use those appliances.
7. Another popular trend is to transform the sink into a design statement and an extension of the countertop. A workstation sink combines in one place traditionally separate areas of a kitchen. These sinks feature multiple accessories enabling you to wash food, chop and prep it, do clean up, dry dishes, and more. Workstation sinks are designed to help save space and time in the kitchen and often serve as a focal point that wows guests and family alike.
If you want to assure that your new dream kitchen features all of the bells, whistles and capitalizes on the hottest trends that will withstand the test of time, give us a call at 1-855-221-8286 or make an appointment for one of our experienced Scottsdale Kitchen designers to visit your home and show you how to capitalize on the latest trends to create a kitchen that you will be happy to call your own.