Standing the Test of Time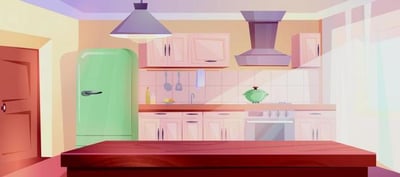 When homeowners in Scottsdale make the decision to create a dream kitchen, they want to ensure that design and the products selected can survive the test of time. While certain trends such as brightly patterned backsplashes and green-toned stone are hot right now , they may not be so popular 10 years from now. Some of us can remember avocado-colored refrigerators. How about the shiny light pink tile squares? What features, materials, patterns, and design elements can withstand the test of time?
White will always be right. In fact, more than 50% of new kitchens for homeowners in Scottsdale and Phoenix opt for a white color palette. White will never go out of style, nor will wood cabinets and finishes. Now in recent months, we have seen a resurgence among homeowners in Arizona gravitating to natural wood cabinetry and finishes. Wood adds a luxurious element to any kitchen and provides a soothing palette and calming vibe. Another reason we believe that wood cabinets and finishes will withstand the test of time is the ability that wood provides for homeowners to make distinct and personal design statements.
The multifunctional roles of today's kitchens as office spaces, meeting spaces, cafes, and classrooms in addition to the place where meals are prepared, cooked, and eaten is expected to continue far into the future. Homeowners need their kitchens to be multifunctional and flexible. That's why we expect open-floor plans to continue to be extremely popular and homeowners in Scottsdale gravitating toward facades and covers that integrate appliances and other traditional kitchen elements into cabinetry.
Because of the multiple roles demanded of new kitchens, we are seeing a growing trend of doubling the pleasure and doubling the fun. Homeowners are favoring dual islands that provide more space for entertaining, working, studying, and preparing meals. Those who entertain frequently relish dual ovens, dual dishwashers, dual sinks and two or more refrigerators.
Because people are expected to continue to spend most of their time in their homes, they want an easy button for daily living. That's why the trend of smart features in the kitchen will continue to grow. Voice activated faucets, smart appliances and even touch open and close cabinetry make it easy and stress free to enjoy a kitchen.
We expect demand for pantries and scullery kitchens where homeowners in Scottsdale can store food sundries and prepare meals out of the sight of guests and family to continue to grow as well.
What are the design elements and features that you can add to your dream kitchen that will withstand the test of time? Give us a call at 1-855-221-8286 and ask to make appointment for one of our experienced designers to show you how to create a kitchen that will stand the test of time for you and your family.