Where Do I Put My Dishwasher?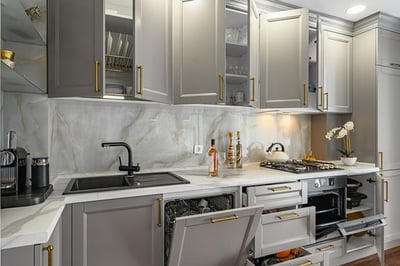 Many homeowners in Scottsdale don't necessarily consider where the dishwasher should be located in their dream kitchen. Typically, an effective dishwasher location is next to the sink, because most people scrape and rinse their plates, glassware and silverware before loading them into the dishwasher. The side of the sink to place a dishwasher is a matter of personal preference. If the main user of the sink and loader of the dishwasher is right-handed, they usually want the dishwasher to the right of the sink and left-handed people want a dishwasher on the left side.
Another consideration is the location of cabinets where flatware, dishes and glasses are stored. Whatever dishes, glasses and silverware are washed in the dishwasher should be stored in cupboards or drawers near the dishwasher to make unloading easier. The dishwasher should be within reaching distance of cabinets by just a step or two.
In some kitchens, it may not be practical or advisable to place the dishwasher next to the sink, especially if there is not enough space to navigate the walkway areas when the dishwasher door is open or to avoid cabinet doors and the dishwasher door from clashing with one another.
Islands are among the most requested feature of new kitchens by Scottsdale homeowners. In some designs, it makes sense to set the dishwasher beneath the island countertop. Dishes can be easily rinsed and placed in an island dishwasher without requiring users to move to another area of the kitchen.
For homeowners in Scottsdale that opt for an open floor plan, we usually recommend panels that match cabinetry for their dishwashers to avoid recognizing a dishwasher from direct sight lines from dining or living areas. The panel will just let the dishwasher blend in with the rest of the cabinetry.
Another popular trend among homeowners in Scottsdale is to have two dishwashers. One is located in the kitchen and a second is placed in a butler's pantry or a pantry that is not connected to the kitchen. This allows homeowners who entertain to take dirty dishes, pots, pans and other cooking items into an enclosed area out of sight from guests and family members.
Many Scottsdale homeowners that plan to age in place in their home are excited to learn that they can place their dishwasher on a taller cabinet box or a drawer box that will lift the dishwasher another foot or two. This will eliminate needing to bend over to load and unload. It also removes the tripping hazard that so many low dishwashers create.
A well-designed kitchen is a kitchen that is easy to use and navigate. That's why homeowners should expect our Scottsdale kitchen designers to ask questions about how the kitchen is used, how often, by whom and for what purposes. This enables talented designers to create kitchens that enhance lifestyles and make it more enjoyable to prepare and share meals with family and friends. What are the best locations for your dishwasher and other appliances in the kitchen of your dreams? Give us a call at 1-855-221-8286 to make an appointment for one of our experienced designers to come to your home to help you form your ideas and create that kitchen of your dreams!