Is a Chef's Kitchen Your Dream?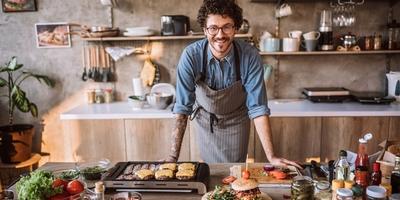 Many homeowners in Scottsdale and Phoenix area who are avid cooks and frequent entertainers dream of creating a restaurant-quality kitchen in their home. We credit Fred Carl, Jr. with fueling the home gourmet chef kitchen movement. In the early 1980s, Carl wanted to install a commercial range in the home he was building for his family. None existed at that time, so he designed a range that offered the cooking power and features of a professional range in a design feasible for home use. The rest is history. Viking saw the demand for commercial-grade performance in a residential setting that has become the dream of many a home chef in Arizona.
Keys to Creating a Chef-Worthy Kitchen
Professional chefs limited the amount of movement in their kitchens to be able to produce high-quality meals in minutes. The same holds true for home chefs. When designing a chef's kitchen for homeowners in Scottsdale, we look to maximize the efficiency of the space by featuring a long island and minimizing the number of steps between the range, ovens, refrigerator, prep sink, and main sink.
Countertops tend to be the workhorses of a chef's kitchen. Quartz is an ideal surface because it is virtually stain and scratch-proof, durable, antimicrobial, and offers a smooth surface that makes the home baker smile. Another attractive countertop option for home chefs is stainless steel.
Chef's kitchens also feature a large and often deep sink that allows the home chef a place for large pots, pans, and dishes. We often recommend to the home chef a workstation sink that features inserts for cutting boards, colanders, trivets, and other accessories that expand countertop space and minimizes the movement necessary to prepare and cook. Including an extra prep sink either on the island or in another location in the kitchen is a welcomed addition for every home chef.
Scottsdale homeowners that entertain frequently for family and friends almost always will take advantage of two high-capacity ovens. Space permitting, we prefer placing them side by side at eye level because they are easier on the back and easy to monitor what's happening.
A well-designed chef's kitchen (in every other kitchen) is a well-organized kitchen. Avid cooks benefit from a pantry that allows them to see available ingredients that can be accessed in a matter of seconds and that there is a place for everything, and everything has a place. That's why home chefs invest in drawer and cabinet organization tools that make cooking easier and more enjoyable not to mention assuring a clean aesthetic.
Open shelves, wall-mounted knife blocks, and ceiling racks are additional features that put the tools necessary to prepare delicious meals at arm's reach.
Lighting is another key ingredient of a well-designed chef's kitchen. Light needs to be layered using task lights, ambient lighting, and accent lights. Task lights are necessary above the island, sink, and prep areas. Ambient provides uniform illumination throughout the space, independent of other lighting sources. Ambient light "bounces" off the walls to illuminate as much space as possible. Window or glass doors offer natural ambient light.
Accent lights are used mainly to illuminate specific points of interest, such as artwork or architectural features. They are often decorative and complement the decor of the room. Accent lights can also be used to achieve the desired effect, such as making space appear bigger.
How can you create the chef's kitchen of your dreams? Give us a call at 1-855-221-8286 to set an appointment with one of our experienced designers, and let us design a kitchen that will enable you to be the chef you want to be...right at home!