The Return of the Scullery
The Victorian Scullery is Back!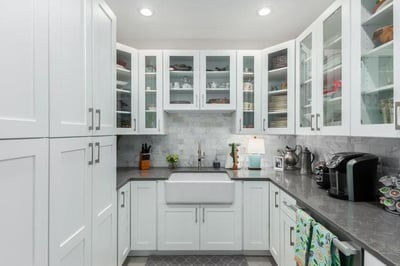 A scullery is a small kitchen or room at the back of the house used for washing dishes and other dirty household work. Until recently, sculleries were most often associated with the Victorian period and turn of the 20th century in larger homes where the kitchen was not a place to be seen. Think of Downtown Abbey. With the popularity of open floor plans and the kitchen as the central gathering place in the home, the desire for a second kitchen was not even remotely popular for most people in Scottsdale and Phoenix. The times are a-changing. We believe that many homeowners, especially those who entertain guests often, would be attracted to a scullery, butler pantry or back kitchen because it provides a space to move the messiest aspects of meal preparation and cleanup to an enclosed out-of-sight space.
While their origins are rooted in the past, sculleries, butler pantries or back kitchens address the needs of modern-day families. Think of a scullery as a modern equivalent of a powder room for the kitchen.
When homeowners in Scottsdale discuss their dream kitchens, they often envision pristine spaces with long, sparkly and shiny countertops...and then reality sets in. When you prepare meals, unload groceries, wash dishes, load the dishwasher, there's stuff on countertops, on islands and in sinks. A scullery takes those tasks out of view and enables homeowners to maintain the pristine environment of their dreams.
We find that many homeowners in Scottsdale would gladly replace a wall of ceiling height cabinets with open shelving, windows and/or artwork when renovating their kitchens. Sculleries are great places to house coffee makers, stand mixers, toasters and other countertop appliances. We've seen sculleries with refrigerated drawers, a second dishwasher, wine and beverage fridges, microwaves, ice makers, cabinets for dishes and cutlery, and shelving, drawers and baskets for dry goods.
Prime candidates for a butler pantry or scullery are working couples who have an open concept home and love to entertain. It's a perfect spot for a chef to make a mess as he creates gourmet foods and dishes, and then be able to carry the beauty out to the dinner table and there's no mess to stare at while eating or entertaining. It's also perfect for a working couple with small children who value family time together without having to share that space for storing kitchen contents and meal preparation and clean up. For busy families, a scullery is part pantry, part prep kitchen and part convenience store.
Individuals who love to entertain and do so frequently are also ideal candidates for sculleries. They welcome a hidden space to store items such as dishes, linens, dry goods, and small appliances because they realize that the kitchen is where their guests often congregate and typically is within eyesight of the dining area.
Is a scullery or butler pantry ideal for your new kitchen renovation? Are you wondering how you can redesign your existing space to create that space? Let's discuss the possibilities by calling us at 1-855-221-8286. Ask for one of our Scottsdale Design team to visit your home.