Maximizing the Return on Investment in Your Kitchen Remodel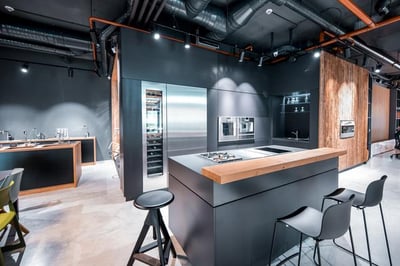 People often ask us how much they should spend and how much makes sense to spend on a remodel. It depends. There are times when it makes sense to spend more, and times when it doesn't. Typically investing in a new kitchen and bath increases the value of homes in Scottsdale, Phoenix and most places. The amount of the spend compared to the return on investment depends on the goals of the renovation.
Most homeowners understand that a new kitchen or primary bath makes it easier to sell their home if that is their goal. In these cases, our Scottsdale Designers work with them to achieve a short-term return on investment or to create as much short-term value as possible. This can be accomplished by limiting the scope of a renovation if necessary and by selecting more cost-effective materials and design approaches. This might include changing cabinet door fronts, replacing the backsplash, specifying porcelain countertops that look and feel like marble and upgrading appliances at a minimum without changing the floor plan or location of what currently exists.
Homeowners that plan to stay in their homes for years to come have different goals than those upgrading to make their homes more attractive for an immediate sale. We see that these homeowners remodel to improve the quality of their lives and to make their home more enjoyable and satisfying to live in.
A few rules of thumb to maximize the return received on a kitchen remodel is to invest in cabinetry that can withstand the test of time. Cabinets typically represent about 30% of a remodeling budget and should be expected to perform for at least two decades if not longer. That's one reason why white shaker cabinets represent about 50% of all cabinets selected by homeowners and nationwide; it's a style that will stick around for years. Other popular color schemes that will serve the needs of homeowners for decades to come include gray, dark blue, linen and soft taupe.
Including an island or a peninsula, space permitting, is another area that provides a significant return on investment for homeowners in Scottsdale. Islands add desired functionality and enjoyment to a kitchen by providing additional seating, countertop and meal preparation space and storage.
There's a reason why quartz is currently the most popular material for countertops among homeowners in Scottsdale and Phoenix who are renovating their kitchens. Quartz is stain resistant, antimicrobial, easy to clean and maintain, and available in any style, color and décor that may be desired. Above all of that, quartz can be a very beautiful option!
Subway tile is a popular and cost-effective backsplash option, because it provides multiple design and color possibilities that are also easy to clean and maintain.
Lighting is another area that can greatly enhance the return homeowners receive from their kitchen remodel. Layering task lighting that brightly illuminates countertop space used for chopping, slicing and dicing with under-cabinet lights that provide an alluring ambience to any kitchen and statement making pendants that serve as focal points that create value and personality in your new kitchen.
What are the secrets to maximizing the return on your kitchen renovation? Find out by calling us at 1-855-221-8286 and set an appointment for one of our designers to come out, see what you have in mind and talk about how you can make the wisest remodeling decisions for your dollars, based on your unique needs, wants and desires.
Together, Building Dreams