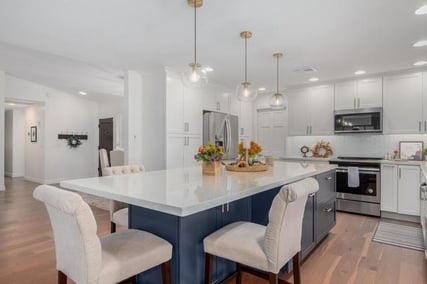 Almost two out of every three kitchens renovated in the U.S. include an island, and that percentage holds true for Scottsdale and Phoenix. This is for good reasons! Islands are multifunctional. They provide extra storage areas, serve as classrooms for children who have gone the home school route in the last few years, and provide additional seating for dining and entertaining. Islands improve the kitchen's functionality by often including prep sinks, cooking spaces, refrigerated drawers, indoor grills, microwave or steam ovens, dishwashers, and cooktops. They provide increased countertop space that can be used for preparing meals and many other purposes. Plus, islands often serve as a focal point for a kitchen, thereby enabling homeowners in Scottsdale and Phoenix to make distinct and personal design statements.
Storage and organization is the number one consideration for Scottsdale Remodeling. Homeowners are opting for an island in their new kitchens because it offers a lot of added storage for the home. Most homeowners include cabinets and/or drawers in the island for storage; however, we also have seen an increase in open shelving as a storage option for islands.
The most common island shape is square or rectangular, usually between six and seven feet long. Depending on the kitchen's size and shape, islands can be L-shaped or U-shaped. For smaller kitchens, we often recommend a peninsula. Peninsulas are three-sided. The fourth side is attached to a wall.
Many homeowners choose a color scheme to complement the main cabinets. According to a recent Houzz.com survey, the most popular colors are blue, gray, and white. If we look at TraVek's recent history, a favorite color pop is Navy. Another technique to create a stunning visual is the choice of countertop materials and colors. The most popular colors for island countertops are white, medium wood tone, gray, or light or dark wood. Some homeowners in Scottsdale and Phoenix like to mix and match and select different materials for their island countertops than tops placed on cabinets. Popular choices include butcher block, granite, quartz, and marble.
Lighting can make or break the look, feel, and functionality of a countertop. Pendants, recessed lights, chandeliers, and natural light can provide general illumination, task lighting for meal preparation and cooking, or highlight a particular focal point on the island.
What island size, shape, color, and functionality is perfect for your new kitchen? Give us a call at 1-855-221-8286 to schedule an in-home consultation to discuss your remodeling project. Let our experienced designers walk you through and show you how your kitchen and island dreams can become a reality.