Aging-In-Place Shower Needs
Bathroom Remodeler in Scottsdale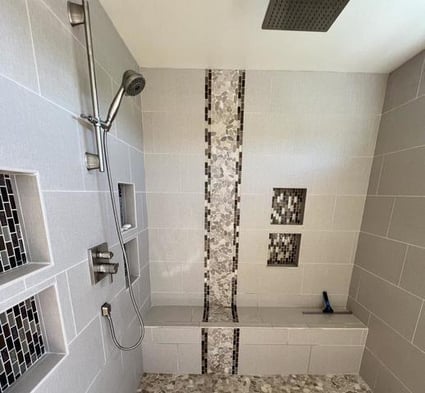 Multiple Arizona metro cities still sit comfortably in the top 10 cities to retire, but are the homes always ready for that next stage of life? If you have moved to Arizona to enjoy your retirement years or be closer to family, you may have found some great deals on homes, except they are fitted with inconvenient shower spaces.
Many homes predating 1999 have a very common layout with a built-in tub and a stall shower. These basic showers can be adequate, but down the road the narrow space and curbed edge may cause difficulties for people with mobility challenges.
If you plan on your home is your forever home, it is wise to start thinking ahead for your future needs instead of scrambling to remodel when the need arises.
The golden years of life should be all about comfort and relaxation, so why start your day in a cramped shower? Style and functionality can be great partners as you start planning for that next stage of life. We have the structural understanding of how to design a curbless entry shower. Detachable shower heads offer ease and function, along with benches and grab bars too.
The options to design your shower space are endless, so let a TraVek designer be your guide. We have designers with Universal Design certification on our team, and if aging-in-place or accessibility is a concern, let us know. Please call us at 1-855-221-8286 to schedule a designer to visit you at your home.