Mid-Year Kitchen Design Trends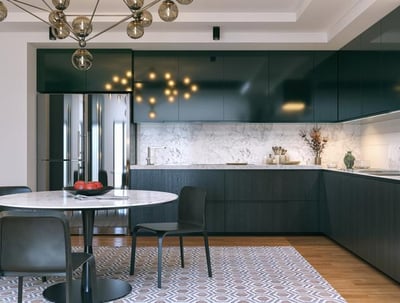 We are almost halfway through 2022. Boy does time fly when you are having fun. We are having a ball designing dream spaces for homeowners in Scottsdale, Paradise Valley, and the Greater Phoenix area. A dominant trend is that Scottsdale homeowners want their new kitchens to be multifunctional. Kitchens have become a more important epicenter in the home serving as the place where family members work, play, network, eat, relax and, yes, prepare meals. Homeowners also want their new dream kitchens to reflect their sense of style and personal tastes resulting in beautiful spaces that meet their individual needs.
We are finding more and more that homeowners are making personal design statements in their new kitchens by mixing different materials and textures in the space. They are attracted to designs featuring combinations of wood, metal, quartz, stone, glass, brass, and even concrete. Mixing materials brings a lovely and vibrant energy to the kitchen.
Not all white is alright! While white kitchens tend to be preferred by many homeowners in Scottsdale, we are finding that our clients are drawn to pops of color in their new kitchens that enable them to bring a sense of the outdoors into an interior space. People are opting for green and blue-toned cabinetry and using color in different and unconventional ways. They are also incorporating color into countertops, opting for veined quartz and colorful stone.
The use of stone for sinks, pulls, window surrounds, and backsplash is another trend among homeowners in Arizona. Incorporating stone in novel applications helps to create a more cohesive and layered look in a new kitchen.
It seems that not long ago, more and more were wanting a completely open concept in their homes, but now we're starting to see that the demand for enclosed kitchens has increased significantly as more of our clients and family members are working or studying from their kitchens, and they appreciate the opportunity for private spaces.
What trends would you like to capitalize upon to create the kitchen of your dreams? Give us a call at 1-855-221-8286 and set a time for one of our designers to meet you at your home to talk about creating a dream kitchen that will be the envy of the neighborhood.