Great Kitchen Tools for Keeping a Healthy Lifestyle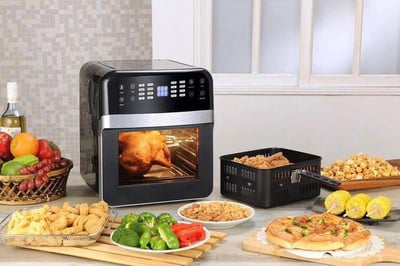 We know that people not only in Scottsdale but across the world, made New Year's Resolutions half a year ago to either improve their health, lose weight, or both. There are numerous reasons to make weight loss resolutions. Losing weight makes you healthier, gives you more energy and helps to reduce fat, and builds muscle. If you subscribe to a particular diet or simply elect to eat healthier, there are certain kitchen tools that can help guide your way and make dieting easier.
One of the first appliances that people turn to when starting a diet is a blender. We prefer blenders with high-torque motors that can easily convert solids into liquids in a few seconds to create healthy shakes, smoothies, and other drinks that every person can enjoy.
Juicing is also a great way to get nutrients into your body. Juices don't have the bulk of smoothies, and the nutrients are easier and faster for your body to absorb. My favorite juicer is the Breville. (See below for my favorite Green Juice Recipe.)
Emersion or hand blenders enable you to mix, chop, whisk and blend, at the stove, countertop, or anywhere else in the kitchen that you prepare meals. If you don't already have a hand blender, look for one with multiple speeds.
A food processor can slice, dice, and chop foods in a matter of seconds. Food processors are great for making healthier snacks and appetizers such as fresh hummus or homemade granola.
Here's my absolute favorite! An air fryer! An air fryer gives you the taste and crunch of fried foods using approximately 75 percent less oil than a conventional fryer. An air fryer is a convection oven that circulates hot air around food to cook it. Air fryers come in a variety of sizes, the largest of which can cook a meal for a family of four looking to reduce fat and calories. My favorite dish made in the air fryer is salmon. (Brush with 1 T butter, 1 T honey, and 1 T mustard melted & combined. Cook at 400 for 14 minutes.) My favorite vegetable is a medley of Brussel sprouts, asparagus and onion drizzled with olive oil and sprinkled with garlic powder, chili pepper, paprika, salt, and pepper. I have the Ultrean, and it's so simple and easy to use, and very fast to clean up.
One of the cool new gadgets for dieting is a spiralizer that takes vegetables such as zucchini, squash, and carrots and turns them into spaghetti. Presentation is everything, and this just makes for a pretty dish.
Cooking beef, duck, and chicken in a rotisserie convection toaster oven will help reduce fat and calories.
A mandoline is another tool that helps to increase the enjoyment of eating veggies. Mandolines cut veggies into extremely thin slices that are easy to prepare and more enjoyable to eat. It seems someone is always selling these at fairs, so keep an eye out for one at the next Maricopa County Home Show.
Sous vide equipment cooks food to the exact level of doneness consistently. Anything cooked in its own juices is juicier, tastes better, is more tender, and less wasteful.
A slow cooker prepares food as its name implies slowly. The dietary benefit of slow cooking is the process preserves nutrients in the food thereby making your meals healthier, tastier, and easier to digest.
I almost hate to mention it, but if we're talking about maintaining good health, a good quality kitchen scale can help with portion control. Portions are based on weight and not size. To get in the habit of eating the right portions, weigh what you will eat.
A brand new kitchen will make meal preparation easier and more enjoyable. We are remodelers; we can help with that as well. Please call us at 1-855-221-8286 and set a time for a designer to come to visit with you at your home to determine how a new kitchen for your home can help you live a healthier and happier lifestyle.
Green Juice Recipe:
1 cucumber
2-3 stalks of celery
1/2 lemon, including rind
A large handful of spinach
A small tuft of cilantro or parsley
2 green apples
1" ginger root
Wash and cut into pieces small enough for the juicer. Juice and enjoy the taste of clean goodness.