The Most Common Remodeling Mistakes to Avoid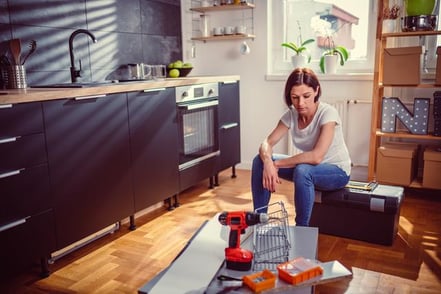 Most homeowners in Scottsdale and the Phoenix area spend many weeks and even months researching different products, design options, and color pallets before ultimately deciding to create the kitchen or bath of their dreams. Research is fun. It lets your creativity run wild and imagine the possibilities.
Most home improvement television shows, websites, and social media platforms paint rosy pictures of perfect projects. Home improvement television shows are wonderful sources of inspiration. On the other hand, they also are responsible for creating unrealistic timelines and budget expectations. You can't design, permit, product source, build and finalize an entire home renovation in Scottsdale or Phoenix in seven weeks. The budget figures presented on entertaining home improvement shows often do not include the cost of labor, which is typically 50% of the cost, the cost of design, the cost of permitting, the cost of procuring products and trade contractors, and other major line items that homeowners will incur in their renovation projects. Home improvement television is entertainment, not a documentary.
Here are the most common mistakes that homeowners make when they decide to build the kitchen or bath of their dreams.
They don't hire a professional designer. This may appear to be self-serving, but if you are going to make a major financial commitment to your home, you are going to want it designed correctly and built to code.
Not sharing your budget at the start of the planning process. You should work with a designer who earns your trust by asking the right questions while curating your desires and developing a plan and budget that meets your needs and expectations. Professional designers can offer guidance for getting the most bang for your buck, provide guidance on where and on what to splurge on, and where you can value engineer. By sharing your budget at the start of the process, your designer can tell you if it is sufficient to meet your goals and dreams.
Not realizing that the unexpected occurs in every project. We can't see behind walls, under floors, or into ceilings. Be prepared for the unexpected because it will occur on almost every project. That's why we advise homeowners to add 20% to their budget for contingencies.
Failing to ask for references. When interviewing TraVek professional designers, ask them to provide the names of homeowners in Scottsdale or the Phoenix area where they provided services on their last three projects.
Changing course in midstream. This is another reason to hire a professional designer. The plan should be airtight before a single product is ordered, especially in today's climate where supply chain challenges abound. Changing your mind once the renovation begins will greatly increase the cost and timeline.
Not making the right investment in storage and organization tools. This is the number one regret of homeowners after renovating their kitchen. In almost every case, storage and organization is important, and not worth cutting corners.
Having a realistic timeline. Everything associated with a renovation project will take longer than you imagine, especially now when there is no certainty on delivery times for many product categories. Work with your designer to develop a realistic schedule that you can live with.
Give us a call at 1-855-221-8286 to make an appointment for one of our designers to come to your home to discuss how you can avoid common mistakes that add to budgets and timelines.