KBIS Design Trends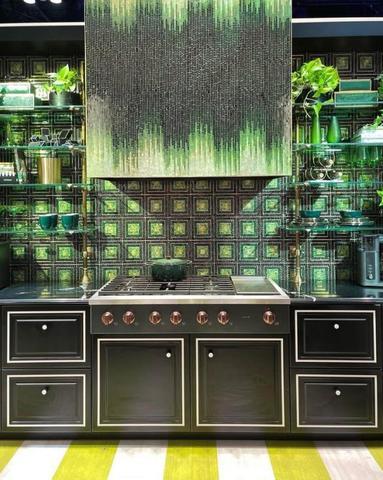 Changing Color Pallets
While white kitchens are never expected to go out of style, you were hard-pressed to find an all-white kitchen at KBIS. There were lots of colored cabinets in softer tones of green, coral, and blue. This display from Café Appliances (above) featured a matte black appliance finish with copper controls and a green-toned backsplash.
More Curves
Kitchen displays moved away from rectangular shapes with sharp, stark corners to a more rounded motif. There were islands with curved ends and lots of displays with curved tops, oval mirrors, and soft radiuses at the end of vanities. That trend extended to an abundance of curved faucets.
More Options for Kitchen Products Outside the Kitchen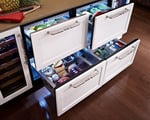 The increased production of under-counter appliances resulted in displays of home bars with a dishwasher and wine fridge designed for the living room. Quartz was displayed as a gaming table and used as a surround for a fireplace. Cabinet hardware traditionally found in kitchens and baths is being repurposed for casework and furniture.
Two-Toned Finishes
Everywhere you look there were fixtures with multiple finishes and finish combinations, not only with faucets but with all metallic products ranging from vent hoods and sinks to cabinet hardware and appliances. Monogram featured leather-wrapped pull for refrigerators and ranges.
Focus on Health and Well Being
Manufacturers were creative in introducing products that bring nature indoors. Caesarstone's new Pebbles line offers a warm, monochromatic range that evokes small stones and dappled sunlight. Many of the dual finishes in faucets, hardware, and sinks evoke a natural vibe. Sherwin-Williams debuted its Living Well collection that includes "Super Paint" that can be ordered with air-purifying technology that reduces VOCs or sanitizing technology that helps to kill certain bacteria for up to four years.
Workstation Sinks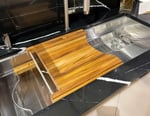 There was a vast array of different workstation sink options offered by a number of manufacturers.
Improved and Expanded Storage and Organization Solutions
Because many homeowners have spent most of their time for the past two years in their homes, it is not surprising that KBIS featured expanded food storage solutions for kitchens that include walk-in pantries or storage capacity integrated into cabinets. Manufacturers are improving their storage solutions in response to homeowners spending more time entertaining in their homes. Not only were there more cabinet accessories, but there were also improved functionality from those accessories providing options to slot plates and platters to enhanced pull-outs.