More 2022 Kitchen Design Trends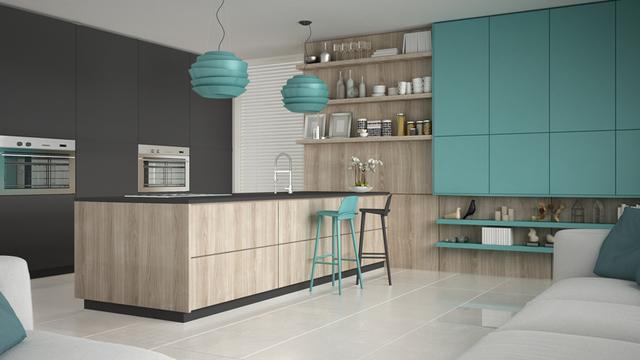 The National Kitchen & Bath Association released its 2022 Design Trends study based on survey responses from kitchen designers, showrooms, product manufacturers, remodelers, contractors and architects among others. Key findings reflect the trends industry professionals anticipate that homeowners in the Scottsdale and Phoenix area will prefer in the coming year. They include:
Kitchens that offer flexible, multifunctional space.

Large islands that are used for meal preparation, dining, homework and as a home office.
Pantries that provide storage and small appliance working areas for coffee stations, blenders, mixers, toasters, etc.
Workstation sinks with built-in drying racks, colanders, cutting boards, etc.

Easy to clean, antimicrobial surfaces.

Quartz continuing to be the countertop of choice for homeowners in Scottsdale.
Large format tiles or slabs requiring less grout.

Smart faucets (touchless, voice activated, app activated).
Increased demand for outdoor living spaces adjacent to the kitchen.
Smart appliances (voice activated; app controlled).
Smart lighting (voice activated; app controlled).
Increased demand for organic and natural styles.
Increased use of natural light in the kitchen from large high-performing windows and doors.
Color palettes moving away from gray and white as primary colors to using whites as neutrals and more color and lighter wood grains.
Increased demand for warm hues and nature-inspired colors, including greens and blues, golds and other metallics.
Plumbing fixtures and cabinet hardware with more matte and brushed finishes with black, stainless, nickel and pewter to be in the highest demand.
Environmental efficiency product and operations that include:

LED lighting
Recycling stations
Low-E windows and doors
Energy Star/energy-efficient appliances
WaterSense faucets and fixtures
VOC-free paints
Products with recycled materials
Radiant flooring

Universal design features that include:

Designs that enable homeowners to age in place gracefully and with dignity.
How can you create an on-trend kitchen of your dreams? Call us at 1-855-221-8286 to make an appointment to discuss the possibilities.