Very Peri Is the 2022 Pantone Color of the Year
How About Purple in 2022?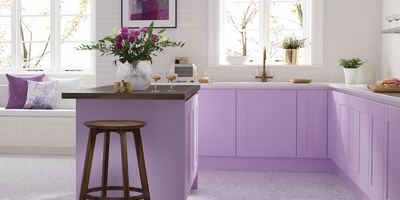 The Pantone Color Institute has selected Very Peri, a purple-blue, as its 2022 Color of the Tear. "Encompassing the qualities of the blues, yet at the same time possessing a violet-red undertone, Very Peri displays a spritely, joyous attitude and dynamic presence that encourages courageous creativity and imaginative expression, states Pantone Executive Director Leatrice Eiseman.
Very Peri used in kitchen and bath designs provide homeowners in Scottsdale and the Phoenix area opportunities to make unique and personal design statements that are modern, fresh, playful, and creative. A purple-blue palate is not common in most kitchens. However, we see it working extremely well as an accent color to provide a pop of freshness to a white kitchen motif. Other applications for Very Peri that could work extremely well in a dream kitchen is to use it on lower base cabinets or as the base of an island.
Color selection for dream spaces in the home depends very much upon how people want their home to look and feel. Very Peri invokes a sense of calm and relaxation, which could be perfect for homeowners that want to convert their primary path into an in-home spa. In bathrooms, Very Peri can be effectively used as a spot color or on an accent wall. Very Peri also can be an effective color to make smaller bathroom spaces appear larger.
How can Very Peri or another color make your dream kitchen, primary bath, mudroom, laundry room, or other space in your home, bring joy and a sense of calm and relaxation? Give us a call at 1-855-221-8286 to set a time for one of our designers to come to your home to discuss how to use color to create exceptional spaces in your home.
Together, Building Dreams