KOHLER's Statement & Anthem Showering Collections
At Kohler, we believe every shower is a canvas. Our Statement and Anthem showering collections are the ultimate palettes.
Defined by unique shapes, sizes, finishes, and designs, Statement has Signature spray experiences that create wholly immersive environments that drench the body and relax the mind, fostering a sense of wellbeing. With a variety of indulgent spray functions, the Statement showering collection helps you build immersive environments for rinsing, massaging, and restoring. Each component is paired with the sprays best suited to its use, expertly aligning form with function. From the flow to the arrangement of streams, the settings have been thoughtfully engineered to deliver transformational moments of wellbeing in every shower.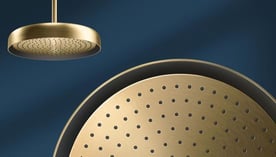 Anthem represents the evolution of showering. Born from a mission to go beyond industry standards, Anthem mechanical and digital valves and controls enable superior showering performance. From expert engineering and technical exclusivity, new and innovative ways to manipulate flow, temperature, and water have been brought to life. Combined with precision controls, the functional act of showering has at once become a highly personalized well-being experience. Captured in an unexpected aesthetic, the Anthem collection represents a milestone in showering design and overall experience.
Katie Baker
Senior Sales Executive
Katie.Baker@Kohler.com
1-855-221-8286