Recipe: Cookies & Cream Breakaway
Need a last minute Christmas Party dessert? Look no further than this 2-ingredient, 20 minute, melt in your mouth goodness!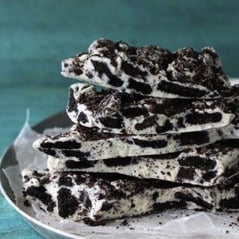 Ingredients:
10 oz bag of white chocolate chips

15 regular sized Oreos

3 additional Oreos for topping
Instructions
Preparation: Line an 8×8 pan with enough parchment or wax paper for a 1 inch overhang on each side.
Place chocolate in a double boiler over low heat and stir continuously, until chocolate is completely melted. Transfer chocolate to a heat proof bowl and cool for 5 minutes. Add chopped Oreos and stir to combine. Pour mixture into pan. Use a spatula to smooth out top.

Finely chop remaining Oreos and sprinkle on top. Chill for about 10 minutes until chocolate becomes solid.

Lift whole bark out of pan by holding onto parchment or wax overhang. Split bark into pieces with a fork.