Designer's Corner: Color & Texture Coming Back in 2022
When it comes to kitchen cabinetry, it seems that Shaker White is everywhere! It is the "little black dress" of kitchen design and will never go out of style, but that doesn't mean it is the only option.
For 2022, color and texture trends are in. Various shades of green, blue, and gray paint (tinted varnish), as well as heavily textured woods like quarter-sawn oak in stains ranging from light to dark, even black, are becoming popular. Kitchens are being designed with a mix of stained and painted cabinets to give the space a more custom feel.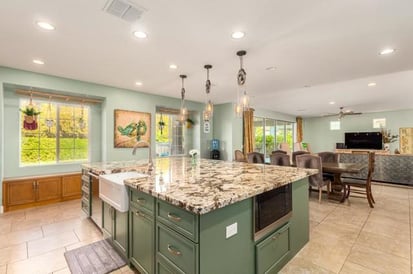 If choosing a colorful palate for your cabinetry seems like too much of a commitment, choosing a vibrantly colored or patterned backsplash instead may be a more enticing option. The kitchen is said to be the heart of the home, so choose materials and colors that make you happy and want to spend time in your kitchen. White will never go out of style, but don't be afraid to choose color or texture in your next project.
Don't know where to begin? Schedule a consultation with a TraVek Designer who can help guide you through new styles and trends.
Katie Kiesel
Sales & Design
katiekiesel@travek.com