The Kitchen of the Future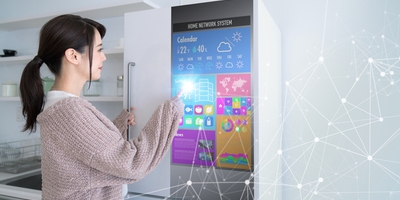 Many homeowners in Scottsdale and the Phoenix area realize that their kitchens are not what they want them to be or need them to be, especially in a time when most homeowners are spending a majority of their time in their homes. The global pandemic has changed the role of the kitchen dramatically. Homeowners not only use their kitchens for meal preparation, cooking, and cleanup, today's kitchens also serve as classrooms, studios, offices, playrooms, media centers, and other roles. The unusual time across our nations has also accelerated the desire among homeowners for kitchens that are smarter, healthier, easier, and more enjoyable to use.
The Kitchen of the Future Will be a More Intelligent Kitchen
Smart Appliances
The conventional oven has been transformed into a technological marvel. Some models use radio frequencies that greatly expedite cooking times and also monitor the amount of energy the food absorbs. These ovens both talk and listen to food as it cooks that enabling homeowners to be able to cook proteins, vegetables, potatoes, and other items simultaneously to their desired "doneness". There are smart ovens that can be app and voice-activated and even a model that can cook a fish in a block of ice and the ice remains frozen while the fish is perfectly cooked.
Smart refrigerators offer remote monitoring and control (temperature and brightness adjustment, notifications for doors left open, etc.), that are compatible with Google Assistant, Amazon Alexa, SmartThings, and other smart home devices. Some fridges have touchscreens that let you order groceries. Others will automatically order groceries, check your calendar and play Spotify while you are in your kitchen, and more.
Smart induction cooktops can be integrated into antimicrobial countertops that transfer heat to cookware while the counter cool remains cool to the touch. The burners are not visible providing not only a great tool to cook but also creating more space for meal preparation, socializing, dining, and other tasks homeowners want to perform.
Many smart kitchens feature an overhead projector that beams recipes and cooking instructions onto an antimicrobial countertop or a wall.
Smart dishwashers connected to digital assistants can be voice and app activated, offer voice and app activated open and close functionality, use less energy, offer notifications when detergent is low, a leak is occurring, and when the wash cycle has been completed.
Touchless faucets are easier to use, can be connected to your digital assistant, and also offer voice and app functionality. Their microbial finishes promote health and safety.
Sinks of the future will feature two drains that will separate water from the sink and dishwasher. One drain will channel water that can be reused to water plants and for other purposes and the second drain will channel water to sewage pipes for treatment.
Robots for the kitchen will be used to sweep and mop floors and even serve as a professional chef to prepare and cook meals for you and your family.
Smart kitchens can also feature indoor gardens where homeowners in Phoenix can grow herbs and vegetables year-round in small spaces.
Smart kitchens reduce food waste, consume less energy, are environmentally more efficient, make cooking more intuitive, are healthier, safer, and easier to use.
If you are interested in creating a dream kitchen that promotes health, safety, well-being, and ease of use now, give us a call at 1-855-221-8286 and request for one of our designers to come to visit with you about your kitchen remodeling project.