Decor Trends for Thanksgiving
Inspired by copycatchic.com
Can you believe the holiday season is already upon us? Less than a month to go until Thanksgiving. Here are a few special items to make your gathering extra gorgeous this year. These subtly colorful finds are fall-festive without screaming Thanksgiving—perfect for enjoying throughout the season. Happy decorating, entertaining, and feasting to you and yours!
1. Artificial Branches: Bring the colorful changing leaves of the high country into your home. Whether as table accents or paired with a vase, the golden colors festively fall.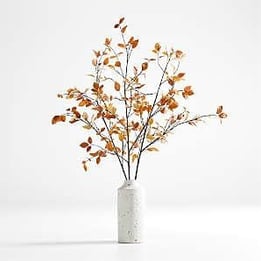 2. Leather Candles: Until the smell of cooking turkey fills the room, set the scene with this equally refined and rustic scent.
3. Amber Glass: Modern recreations or vintage finds, the amber coloring is perfect to create a centerpiece for your table or adorn a mantlepiece.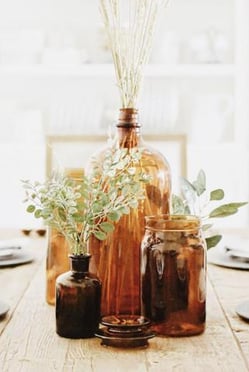 4. Gold Candle Holders: Gold is making a comeback and why not add a bit more old-school class to your space?
5. Tapered Candles: You've got the candlesticks, so go ahead and combine them with statuesque candles for a dinnertime glow.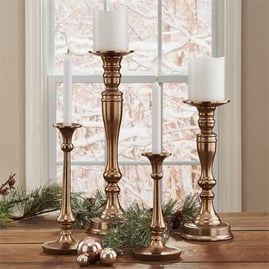 6. Wood Serving Platters: Charcuterie boards have been all the rage lately, so you might as well start your soiree with an appetizer on a handsome board.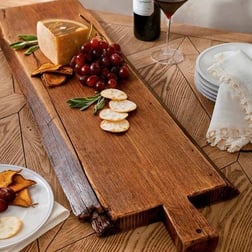 7. Wood Napkin Rings: You may be seeing a pattern here. Wood accents and décor are bringing back natural features to our home.
8. Linen Napkins: As long as we are reaching into the traditions of the past, let's treat your guest and your dining table to reusable napkins that add color and sophistication to your experience.
9. Glass Decanters: Be it sparkling cider, fine wine, or cranberry juice, display your myriad of drink options in the serving area or spread out on the dining table for family and friends to help themselves to a refill throughout the meal.