Preparing for the Future as We Age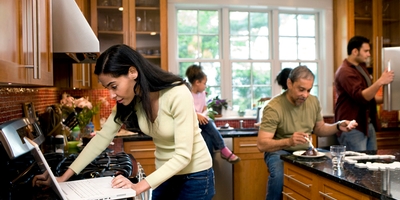 Recent times have transformed the role and functionality of modern kitchens. While the kitchen has long been considered the heart of the home, it now serves multiple roles that include classroom, office, hobby center, restaurant, study, game room, and conference room, among others. Increasingly, homeowners are creating the kitchen of their dreams for the long term, which includes design considerations for a multi-generational household and for aging in place. Aging in place is the term to create spaces that can be used by anyone regardless of age, physical condition, or mobility, employing universal design principles.
Access is a key to universal design. Open floor plan kitchens are ideal for multigenerational and aging-in-place kitchen use because they typically provide access to other living spaces and feature multiple pathways that can accommodate those who may be confined to a wheelchair or need to use a walker. When homeowners in Scottsdale or Phoenix request a kitchen where they can age in place, we look at entryways into the kitchen. If we can eliminate doors, that's great. If not, we determine if they can be expanded. Most doorways are 24 inches wide. You need at least 36 inches to accommodate a wheelchair.
Floor coverings are another important consideration of a universally designed kitchen. Concrete, tiles, and other hard surfaces can put a strain on hips, back, and knees. We often recommend textured small format ceramic or nonslip tile or wood, vinyl, or linoleum.
Countertop, cabinet and appliance height, reach and safety considerations are also addressed in a universally designed kitchen. Multi-level or adjustable countertops with rounded corners eliminate the possibility of a family member being injured by a sharp corner and can be used by every member of the family regardless of height. Matte and other non-glare finishes make it easier on the eyes to prepare and cook meals, read recipes and perform other tasks.
For cabinets, the standard for an aging-in-place kitchen is to position cabinets three inches lower than standard height. We will recommend cabinets with pull-down shelves on upper cabinets and pull-out shelves or drawers for base or floor cabinets.
For faucets, touchless and app-controlled fixtures can be used by every member of the household. The sink should not be more than six inches deep.
Smart lights that can be controlled by voice command, motion, or an app also make for not only a smart kitchen but also one that can be safely used by every member of your household regardless of age or physical limitations. Similarly, smart appliances that can be controlled by apps and voice commands via personal digital assistance help promote safety and ease of use. Ovens that are positioned at waist height or eye level are easier and safer to use than those that are positioned on the floor. We often recommend a designated area for placing hot pots and pans next to the stove or cooktop.
There are multiple storage solutions that provide ease of access to pots, pans, pantry items, and other utensils and tools that are used daily in the kitchen. Rest assured that if you want to create a dream kitchen for the long-term, you don't have to compromise style, functionality, look or feel. Want more information on how you can create a dream kitchen for every member of your family that survives the test of time? Give us a call at 1-855-221-8286 or contact us here.