Who Knew Using the Bathroom Could Be So Much Fun?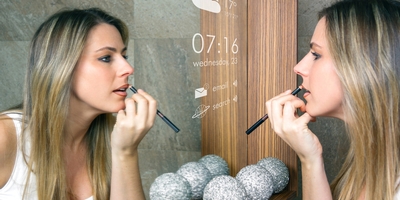 Increasingly, homeowners in the Scottsdale and Phoenix area need their homes to function more effectively and efficiently. As the role of the home continues to serve multiple functions including office, gym, café, lounge, restaurant, studio, etc., people are creating in-home spas that serve as a refuge, a place where they can enjoy a few quiet moments daily all to themselves and wash away the stresses of the day.
Homes are getting smarter and the primary bathroom is no exception. Especially in the last 18 to 24 months, demand for smart primary baths has skyrocketed and manufacturers are responding to that demand with technologically advanced and connected shower systems, toilets, mirrors, faucets, medicine cabinets, leak detection devices, and lighting, among other bath features and components. Technology in the bath makes life a lot easier, healthier, and more enjoyable.
Common Features of a Smart Bath
Smart toilets offer self-rising and closing seats, automatic flushing, self-cleaning capabilities, heated seats, massage night lights, Bluetooth connections to music services and personal digital assistants, integrated exhaust systems that remove odors and bacteria, and washlet systems that incorporate dryers that eliminate the need for toilet paper.
Smart mirrors feature app- and Bluetooth-controlled lighting, USB sockets, motion sensor activation, Bluetooth audio speakers that allow users to connect smartphones to them and play music or watch a video, electric defoggers and even 3D scanners, multispectral cameras and gas sensors to assess the health of the person looking into them.
Smart lighting can be voice-, app- or motion-activated. We are placing LED strip lighting under toe kicks on vanities or along walls that can light the path to the bath without having to activate sconces or overhead lighting and wake your partner in the event you need to use the bath in the middle of the night.
Smart tubs offer a range of therapies that include light, sound, and aroma, jets, and air systems that can relax and rejuvenate tired muscles, soothe aches and pains, remove toxins from the body and wash away the stresses of the day.
Smart shower systems, that can be activated with smartphone apps, allow you to set the water temperature to match the needs and preferences of every member of your family and often include steam systems, audio, color, and aromatherapies.
Smart faucets also can be voice or motion-activated that are not only easier to use, they also help save water. Similarly, voice or motion-activated soap dispensers provide the perfect amount of soap for handwashing and can be installed in every bath in the home.
Televisions are making their way into baths and are particularly appreciated by homeowners with family members who enjoy long soaks in the tub. Bathroom TVs can be found in bathroom mirrors or wall-mounted at the foot of a tub or on a wall.
Other features of a high-tech, smart bath include heated floors and towel warmers.
How can you leverage technology to convert your primary bath into an intelligent, smart refuge that functions as an in-home spa? Give us a call at 1-855-221-8286 or contact us here.