Options for My Bathroom Remodel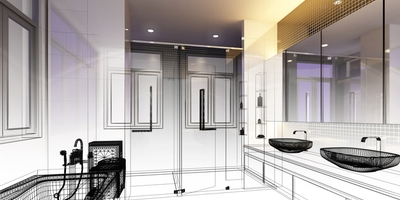 Demand for new baths among homeowners here in Scottsdale and Greater Phoenix area has never been hotter. Homeowners have realized that creating an in-home spa where they can have a few minutes all to themselves to wash away the stresses of the day can enhance the quality of their lives and increase the value of their homes. Given the demand for kitchen and bath renovations and supply chain challenges confronting the entire industry makes preparing for a new bath more important than it has ever been. Bathroom renovation is not something most homeowners undertake often. There are lots of decisions that have to be made, options to consider, and details to ponder. Here's guidance to help prepare for your renovation.
Have a realistic timeline and budget expectations. Home improvement television shows are great sources of inspiration; however, they provide a tremendous disservice when it comes to time frames and budgets. Costs that are often quoted more times than not do not include the cost of labor. Timelines do not account for the time it takes to design, contract for services, obtain permits, conduct code inspections, or encounter material delays and supply chain issues. Don't be afraid to share with our professional designers the expectations of your dream bath and the budget figure you want to spend. A true professional will advise you if your budget can meet your expectations and if not, where cost savings might be available. The budget is affected by the scope of the project. Expanding space, adding windows or skylights, reconfiguring plumbing, electrical and heating and cooling ducts incurs more cost than simply replacing what might currently exist.
The size of a bathroom also can present challenges, especially if it tends to be smaller, which may not lend itself to a separate space for the toilet, dual sinks, or a large soaking tub. That's where a professional designer can be your greatest ally. They know how to maximize the value of the space they have to work with. At times we have created "Ah-Ha" moments among homeowners by creating new space in a smaller bath by eliminating the tub altogether (because it was rarely used) and replacing it with a high-performing shower with steam, color, light, sound, and aromatherapies.
Opting for an open floor plan bath is another option to help maximize a smaller bath. Specifying a linear drain that requires the shower floor to be only sloped in one direction can eliminate the need for a shower enclosure altogether. Open floor plan baths are not only for smaller spaces, they can create wow factors in larger baths as well.
When planning the bath of your dreams determine how you use your bath, who will use it, what functionality you desire, and most importantly how you want the bath to look and feel every time your cross the threshold. Working with TraVek's designers can help assure that the feeling you receive brings a smile to your face and the faces of your family members.
How can you plan for a dream bath? Give us a call at 1-855-221-8286 or contact us here. We'd be happy to send one of our designers to come to visit with you and talk about what you have in mind for your remodel.