Will a White Kitchen Stand the Test of Time?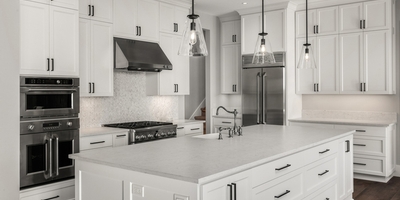 More than half of the homeowners in Scottsdale and the Phoenix Valley are opting for a white palette when creating the kitchen of their dreams. White is a popular choice because of its neutrality, which allows for a person to add pops of their favorite color and different textures and design elements that make unique statements reflecting their personality and aesthetic. Another compelling reason for a white pallet in your dream kitchen is that it will withstand the test of time. How can you make a white kitchen unique and an expression of your personality?
Recognize that white is often selected because people associate white with having a bright airy feel. And that can be a really smart use of white However, white cabinets with white backsplashes and white countertops can create a sea of sameness. Homeowners that want a bright and airy look and feel can achieve their goal by recognizing there are hundreds of shades of white and can contrast white cabinetry with gray-toned countertops and backsplashes. Other effective strategies to contrast a predominately white kitchen pallet is to specify dark hardwood floor coverings, install a statement-making contrasting range hood, or adding painted glass doors to selected upper cabinets. We often recommend veined stone or quartz countertops to help contrast white cabinetry as well.
Another technique for making white kitchens stand out is to introduce texture and contrast into the design to make it more interesting. Open wood-stained or grained shelves can make a unique design statement along with installing black finished cabinet hardware, lighting, or range hoods.
Many people that believe white is the right color for their dream kitchen are attracted to contrasting white upper cabinets with a different colored lower cabinet to add warmth and texture to the space or to select different textural elements such as concrete countertops, oversized pendant lights, or geometrically shaped tiles for backsplashes.
How can you create a statement-making white kitchen that will last the test of time and deliver years of joy to you and your family? Give us a call at 1-855-221-8286, or contact us here and discuss how you can make your dreams a reality.