What's the Easiest Kitchen to Keep Clean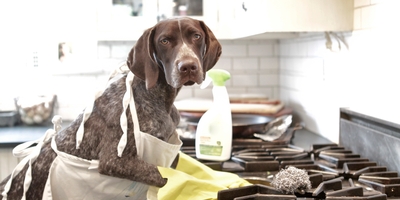 Questions that we ask homeowners in Arizona during the initial planning phases of designing a new dream kitchen include who will use the kitchen, how often, and who will clean the space. If homeowners are avid cooks, we ask if they mind cleaning their kitchen. The responses to those questions provide great insight because different surfaces require different levels of effort to keep a new kitchen looking new.
Frameless cabinets are generally easier to clean than framed cabinets. Flat-panel doors are generally easier to clean than paneled, beaded, or arched style doors because flat panel doors don't have groves or recesses where dirt and grime can accumulate. Flat-panel doors are selected by homeowners that want a contemporary modern look and feel to their kitchen. Homeowners that want a more traditional look but don't want to spend a lot of time keeping cabinet surfaces clean, often select Shaker designs that are characterized by clean lines that add depth and interest without being visually overpowering. The most basic Shaker style is a five-piece door with a recessed center panel and no additional edge detailing.
The color of the cabinet also affects cleaning requirements. There is a reason why white cabinets are selected more than 50% of the time by homeowners in Scottsdale and Phoenix. They do not show dust particles or fingerprints that are visible on cabinets with dark paints and stains. Selecting a cabinet style that features grains and grooves can help hide stains and scratches and are typically easier to repair and restore than painted cabinets.
The easiest to clean and most durable countertop material is engineered quartz. It resists stains, scratching, and incurring damages from hot pots and pans. Wood countertops look great but require resealing at least annually if not more depending on usage. Granite countertops are also durable and relatively easy to clean with warm soapy water. We recommend to homeowners that every few months to determine if granite or other types of stone countertops need to be resealed to avoid the potential for staining.
Stainless steel appliances also are easy to clean with soap and water. However, they can easily show fingerprints and scratches.
The easiest and highly durable material for floors is ceramic and porcelain tiles. Ceramic and porcelain is highly moisture resistant and scratch and stain-resistant and doesn't require any special cleaning materials. Stone and wood floors should be resealed at least annually.
Semi-gloss and high-gloss paints are the easiest to clean in a kitchen. If you don't want the glossy vibe in your kitchen, a good alternative is satin paint.
Similar to flooring, ceramic and porcelain backsplashes are the easiest to clean. Glass is another relatively low maintenance backsplash material, and using glass sheets eliminates the need for grout.
Brushed finishes for plumbing fixtures and door and cabinet hardware are easiest to clean and if you make the investment in PVD finish, the finish will last a lifetime. Matte finishes hide water spots and fingerprints which is not the case with chrome and other shiny finishes.
When planning your new kitchen, always consider finish options and their effect on maintenance and cleaning requirements. What surfaces, materials, and finish options would make your new kitchen look, feel and function most effectively? Give us a call at 1-855-221-8286 or contact us here to set a time for one of our designers to come to your home and discuss the best materials for your new dream kitchen.