What's the Best Kind of Countertop to Buy for My Kitchen?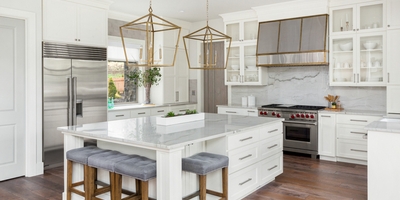 If the kitchen is the epicenter of the home, then countertops are the epicenter of the kitchen. It's where almost every kitchen activity begins and ends. Because countertops are one of the first things you see when you enter a kitchen, they naturally serve as a focal point. And the good news is that choice of color, shape and material is virtually unlimited, enabling homeowners in the Scottsdale and Phoenix area and your designer not only to make countertops the functional workhorse of your new kitchen, but also the ultimate expression of your design and personality.
Investing in high-quality, high-performing, statement-making countertops makes a lot of sense. Not only are countertops relied upon for meal preparation, but they are also used for cooking, eating, entertaining, doing homework, charging electronics, reading, relaxing and spending quality family time together. Countertops serve practical and aesthetic functions that can make or break a new kitchen.
What's the best countertop for your new dream kitchen? What are the most important criteria to consider? What's hot and what's new? The answers are found in a recent survey of more than 500 industry professionals, conducted by Kitchen & Bath Business that can help homeowners in Arizona make the wisest countertop choice for their unique needs.
The main factors that homeowners should consider when selecting countertops for their new kitchens include:
Price
Durability
Maintenance requirements
Look and feel
Hygienic performance
For homeowners the most important criteria are look and feel, durability and maintenance.
White is the most popular color choice for countertops. According to the K&BB survey, 64% of all homeowners select white. Second most popular is multicolored countertops followed by a range from greens to blues, blue with gray veining and warmer colors that resemble natural stone.
Quartz is the most popular material specified for countertops and for good reason. Quartz resembles natural stone materials such as granite and marble however, it is not porous and won't stain, making it easy to maintain and clean. There are an almost limitless number of colors, patterns and finishes available. With quartz, homeowners can even incorporate veins in interesting patterns to resemble marble and natural stone. Typical quartz slabs are the same thickness as granite, 3cm. However, quartz is heavier than granite and much stronger, allowing for larger tops and longer overhangs. Quartz is more expensive than laminate and solid surface materials but typically is less expensive than natural stone.
Newer materials that homeowners select for their countertops include porcelain, hardwood, stainless steel and other metals, marble, granite, glass and terrazzo.
What's the best countertop material for your dream kitchen? Let's discuss the options by calling our office at 1-855-221-8286 and make an appointment to visit with one of our designers or click here to fill in an online form.