Fall Recipe: Appledoodle Cookies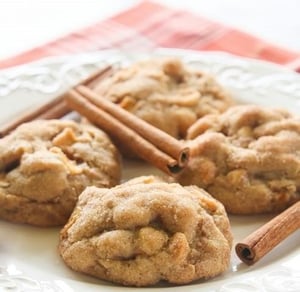 One of my favorite cookies is the timeless snickerdoodle. The comforting scent and taste of cinnamon with the tang of cream of tarter. Only homemade will do though because the store-bought ones just never taste quite right. While the ingredients already lend this to be a fall or holiday cookie, this addition of tart apple bites really makes this a great addition to any fall event or delicious cider drink.
Ingredients
· 3/4 cup butter (softened)
· 3/4 cup brown sugar
· 1/4 cup sugar
· 1 tsp vanilla
· 1 egg
· 2 cups flour
· 1 3.5 oz box instant cheesecake mix, not prepared
· 1 tsp baking soda
· 1 tsp ground cinnamon
· 1/4 tsp salt
· Pinch of nutmeg
· 1 cup apples, peeled & diced small
Cinnamon Sugar
· 1/3 cup sugar
· 1 tsp ground cinnamon
INSTRUCTIONS
In a large bowl, cream together butter and sugars. Mix in vanilla and egg until smooth.

In a medium bowl whisk together flour, pudding mix, baking soda, cinnamon, salt, and nutmeg. Add dry mixture to wet ingredients and mix until combined well. Stir in apples and white chocolate chips (if using). Chill in the fridge for one hour. *I tried it with chilling and not chilling and didn't notice a big difference.

For the Cinnamon Sugar: In a small bowl, combine the sugar and cinnamon.

Preheat oven to 350 degrees and line baking sheets with parchment paper. Take around 2 Tablespoons of dough and roll into a ball and then roll generously in the cinnamon sugar. Place on prepared baking sheet.

Bake for 10-12 minutes. Allow cookies to cool completely on the baking sheet - they will continue to bake as they cool. Store in an airtight container at room temperature.