Cuisine by Celine: Healthy for the Holidays
The holidays are coming! With such a year behind us, everybody is ready for some comforting food to warm our body and soul. Considering the fact that the pandemic got us all stuck at home for quite a while, some extra pounds have joined the party along with the quarantine, and festivities times are usually adding some more as well.
Holidays can be enjoyed without the extra calories, pounds, and guilt that go with them. At Cuisine by Celine, we have been working for years at enhancing flavors without adding the calories and that heaviness feeling that comes with a meal too rich.
One of the principles of a more balanced meal is to have half of it being vegetables. Don't get scared! There are many festive and seasonal vegetables that will do the trick along with fulfilling that Holiday spirit.
Here is a recipe that is sure to please everybody:
Stuffed Acorn Squash: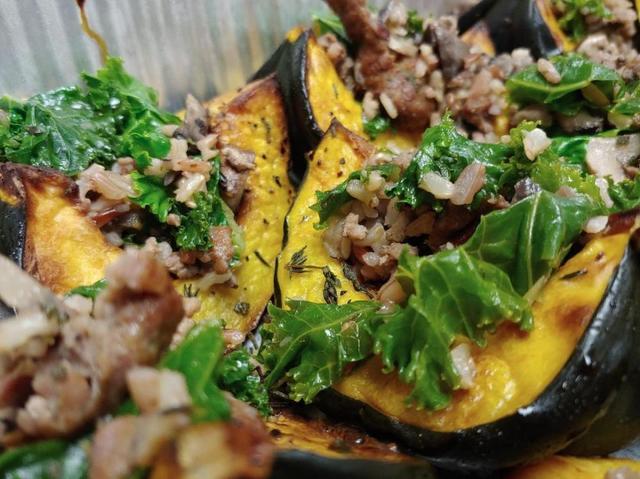 Ingredients:
2 acorn squash
1 cup cooked brown or wild rice
1 pound ground pork
½ onion, small dice
1 celery stalk, small dice
1 carrot, small dice
12 button mushroom, sliced
2 bunches kale, chopped, stem out
1 tsp oregano
1 tsp thyme
2 tbsp olive oil
½ cup white wine or chicken stock
Salt and pepper to taste
Instructions:
Cut the squashes in quarters and remove the seeds
Brush with a little olive oil and cook in a preheated oven at 400 for 45 minutes or until almost tender
In a large skillet, heat 1 tbsp olive oil on medium heat and sweat onions, celery, and carrots until tender, about 8 minutes
Add the ground pork and cook fully about 10 minutes
Deglaze with white wine or chicken stock
Add mushroom and kale, cook for another 8 to 10 minutes
Add the rice, oregano, and thyme, season to taste, and mix all together
Fill the squash with the mixture
Finish the cooking for 15 minutes or until tender
This recipe can be made ahead of time in steps 1 through 8 and finish the day off with step 9
You can make this side dish vegetarian by omitting the ground pork and increasing the number of vegetables.
Top with pine nuts for extra nutrients and a little crunch!
Follow us for more recipes and tips
https://www.facebook.com/cuisinebyceline2015