A Book to Read Before Remodeling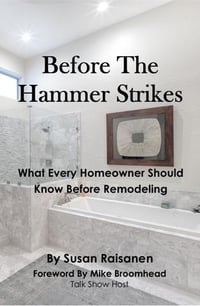 Here at TraVek, we realized that many of our clients had the same questions, especially those who have never remodeled before. That was what prompted the idea to put together a book of some of the common questions and information that people are seeing when they're remodeling.
Remodeling your home is a huge commitment of time, energy, and money. It's often quite overwhelming, daunting, and even scary if a person has never remodeled before.
The whole purpose of this book is to help our local homeowners become more informed so that he/she can make decisions coming from a place of "knowing" instead of just blindly getting into a remodeling project, and then finding themselves in a frustrating or difficult situation. Mike Broomhead, the writer of the Foreword, said, "You will never understand how costly it is to use the wrong contractor until it's too late." We want to prevent that.
Included in the book are the following chapter titles:
Seven Things Every Homeowner Should Know
The 8-Step PreModeling Design Process
The Four Most Expensive Words in Remodeling
How Much Do I Have to Pay to Remodel the Kitchen
How Much Do I Have to Pay to Remodel the Bathroom
How Much Will An Addition Cost
Certified Aging-in-Place Specialists
What Are the Risks of Using an Unlicensed Contractor
What is NARI
I've Chosen a Contractor. What's Next?
This book is given out to the attendees at each Remodeling Seminar. Join us at the next one to receive yours as well as other fun gifts!