National Remodeling Group Visits TraVek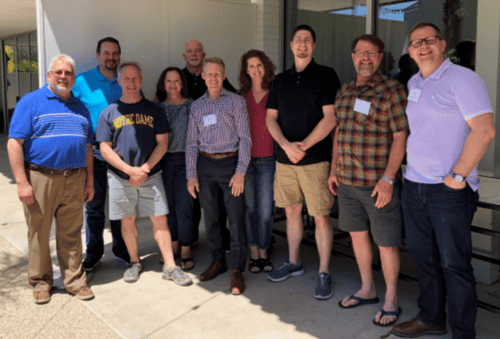 Last week we were honored to have members from Remodeler's Advantage Gamma Group visit TraVek. RA is a group of dedicated remodeling company business owners from around the USA. Each year they make a case study out of one of the member's businesses, and this year we were the lucky ones.
Before coming, they had all done their homework which included examining our financials and our processes and procedures. We handed over our employee list, so they had also done random surveys of about half of the employees ahead of time. Once here, many of us were interviewed, as they really dove into our team and culture.
This was a great experience for us. We loved being able to share what we do, as well as open ourselves to suggestions as to ways we can improve.
The companies represented here are:
Edward Casanave, Distinctive Remodeling out of Garner, North Carolina
Tim Piendel, Great House Remodeling out of Roswell, Georgia
Ken Sheldon, Sheldon Builders out of Eldorado Springs, Colorado
Matt Bowe, Matthew Bowe Design/Build out of Purcellville, Virginia
Judy Schindler, JS Design & Build out of Napa, California
Lana Petty, Top-Notch Renovations out of Austin, Texas
Matt Faro, Distinctive Remodeling out of Raleigh, North Carolina
Dan Asleson, Peacock and Company out of South Bend, Indiana
Von Raisanen, TraVek out of Scottsdale, Arizona