Have You Wanted to Publish Your Own Book But Don't Know Where to Start?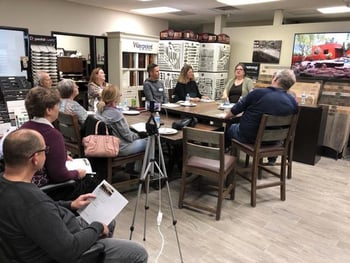 Many of us have the dream to one day publish our own book. On January 15, 2019, we were able to learn the ins and outs of publishing your own book. Laura Orsini, founder, and creative director of Panoply Publishing, gave some very insightful information on how to get started. Laura is an expert in the field and has been in the world of publishing for 20 years.
For those of you who missed the presentation, this is your lucky day. Attached is the entire video presentation. Laura's contact information is included in the body of the video if you are interested in finding out more.
Why does TraVek do these Community Outreach Events? Simply because we love learning. We know that life is much more than just remodeling, and even within our own company, we have a wide variety of interests. If we can provide a speaker and a way for people to find out more about things that interest them, then we are happy to do so. We want our doors to be open to our community, and this is just a small way for us to contribute to the growth of our community.
Please join us! The events are almost always Free, but we do ask for pre-registration.
Enjoy the video. We'd love your feedback. Email Susan at susan@travek.com or call 1-855-221-8286.
TraVek, INC. is headquartered in Scottsdale, Arizona